Reliance Jio has announced new international roaming plans exclusively for the Fifa World Cup, allowing users to stay connected even in Qatar, UAE, and Saudi Arabia. The company has announced five different plans, catering to the needs of different types of users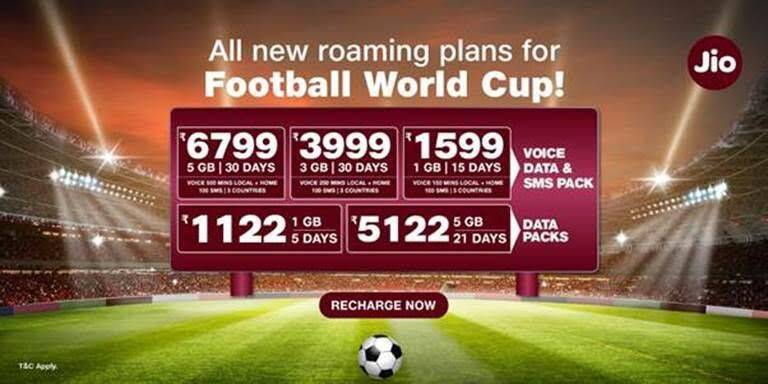 The plans are divided into two main parts — Data, Voice, and SMS packs, and Data Only packs. Users can purchase a particular plan based on the number of matches they are going to attend in Qatar, and the full details of all the plans are available on Jio's website.
The data-only plan starts at ₹1,122 for a validity of five days, and for a 21-day validity, the plan is priced at ₹5,122, both of which offer 5GB of data. On the other hand, the plans with Voice, Data, and SMS start at ₹1,599 for a 15-day validity, while the 30-day validity plan costs ₹6,799.
The plan costing ₹1,599 offers 150 minutes of voice, 100 SMS, and 1GB of data in total while the plan costing ₹6,799 offers 500 minutes of voice calls, 100 SMS, and 5GB of data.
Data-only Plans
₹1,122

Data: 5GB
Validity: 5 Days

₹5,122

Data: 5GB
Validity: 21 Days
Voice, Data, SMS Plans
₹1,599

Voice: 150 Minutes
Data: 1GB
SMS: 100
Validity: 15 Days

₹6,799

Voice: 500 Minutes
Data: 5GB
SMS: 100
Validity: 30 Days