HTC Rhyme is something a tad different from the gadgets we review normally. It is handset designed especially for women! Although that might have put some of you guys off – the thing is it is one of the best deals for women out there.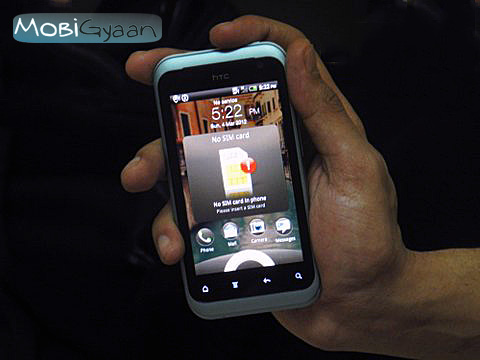 HTC is known for its sleek and suave handsets and the Rhyme is no different. It has the signature features – good hardware and customized UI. 
Make no mistake; the Rhyme is not designed for any run-of-the-mill person. It is designed for the high flying fashionista. At least that is what we deduced from its price and features. The handset packs in a 3.8-inch touchscreen along with Android 2.3, a 1 GHz processor, 5-megapixel camera and HTC Sense. 
So what does it have on offer? Let's have a look.
If looks and feel are a thing to go by, the HTC Rhyme is a rocking handset. HTC has taken its flagship unibody and made a softer version, mainly so that it appeals more to women. One thing is for sure, it is good to hold and maybe a tad too smooth, if you have rough, manly fingers.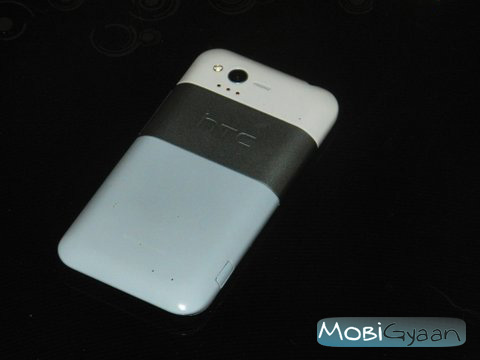 But the thing is if we ignore the marketing and the weird color scheme with the handset, this could have been just as well a handset that men could use.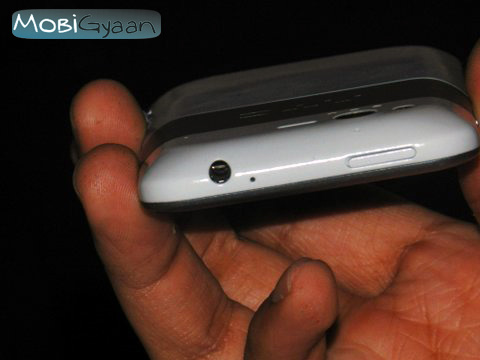 At 130g, the handset is light. Its curved form factor makes it pretty easy to hold. HTC could have made it appealing to men by endowing it with a bigger screen, but it seems they assumed that women like small screens. The body is mix of plastic matt and metal finish. There is no doubt that the handset is a beautiful piece of art.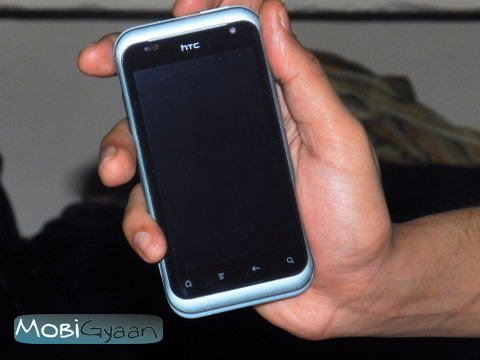 The screen size – 3.8 inches kind of loses appeal if you have had your hands on big screen boys like the Sensation XL and Galaxy Note – but that is just a man's point of view.
The good thing about its petite form factor is that it fits in the palm of your hand.
   

But we are afraid to say that HTC hasn't considered the Indian audience while launching the Rhyme here. See, it comes in only one color – Clearwater, which is kind of a unisex color. Also, accessories such as a charging dock are lacking. So, you are left to contend with the Charm. 
Well, the handset is the first phone to boast of the HTC Sense 3.5 UI. Besides the USB port on the side and a 3.5mm audio jack on the top, the HTC Rhyme boasts of a SIM slot and a MicroSD card slot under the cover.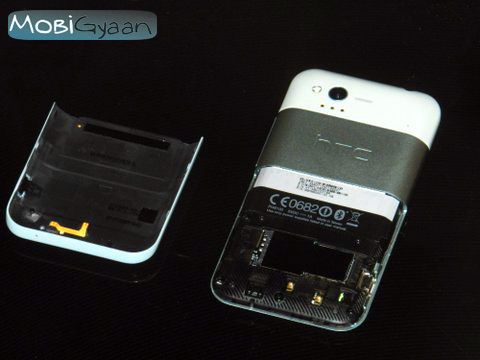 The touchscreen is pretty easy to use, although it did hang once or twice during our usage. But ignoring that, the wallpapers look pretty good. The homescreens  look good too and the way they move using the processor, it just takes your heart away.
The homescreen offers the usual Android fare with most icons you can locate on the homescreens. The main menu is too, nothing too special to talk about. 
While you have a large range of apps at your disposal in the Android market, HTC doesn't leave you wanting with the services. There are of course, HTC Likes and HTC Reader onboard. But that is not all.

In case you are fond of watching movies on your phone (which we don't really recommend), there is HTC Watch, although it offers limited titles and that too old ones. The locations app though doesn't stand a chance in front of services offered by Nokia and Google. 
HTC also offers 3GB storage via Drop, which is a pretty cool feature.
Connectivity
 
As far as browsing on the HTC Rhyme is considered, it was pretty smooth, though not exceptionally fast. In terms of connectivity, there is 2G and 3G on board along with Bluetooth 3.0. The Indian consumer wouldn't have room to complain as 4G is yet far from reaching here. But in case it does in the near future, this phone might seem a tad bit slow. But as of now it is pretty good. 
Sharing is pretty easy on the HTC Rhyme.  Content transfer via Bluetooth and USB was good. 
We have to say that when it comes to musical performance, the Rhyme lags behind. Well, kind of. Firstly, the music playback. The voice clarity was ok, but you wouldn't be able to distinguish every beat. The headset though can be improved. You can't take it to a work out as it will keep slipping out of your ears.
The camera though was pretty good. We took many nice shots both indoors and outdoors and it fared well. On the other hand, the video recording was kind of sloggy.   
If storage is something to go by, the handset has much potential. It offers 768 MB RAM along with 3 GB Dropbox storage. There is also 32 GB MicroSD storage which is pretty good. 
The battery life is pretty good too. And why shouldn't it be? The handset has a 1600 mAh battery under its curvy exterior. The battery lasts pretty good even when you are using multiple apps. The handset never overheats and works 8 hours of normal usage straight on a single charge. 
Bundled accessories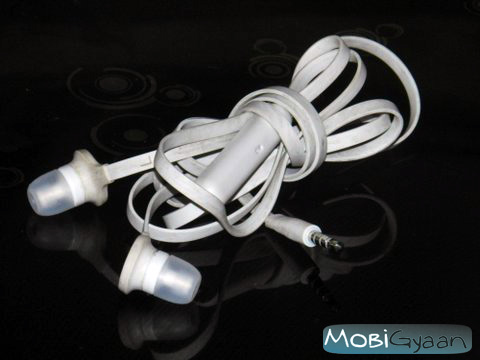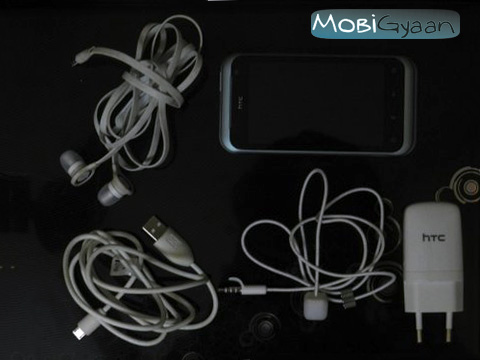 Well, for some reason, we got an ugly looking white box from HTC instead of a good looking one. The box contains a Charm accessory, a USB Charger, a USB cord and headphones. 
Price 
 
The handset is priced at about Rs. 26,000.
Typical price: Rs. 27,990 
Pros
 
Android 2.3, upgradeable to ICS
Cons
 
Verdict
 
It will truly serve as a nice gift for your wife/ girlfriend. But still we think that HTC needs to work on the accessories and the price tag to make this handset more successful.