Google has done pretty well with Android and has reached new heights by becoming the largest mobile operating system in the world. With this, Samsung has also gained a huge prospect in the world market by becoming the leader in the smartphone business. And not just smartphones, Samsung has brought in the Android OS to various devices, like music players and cameras.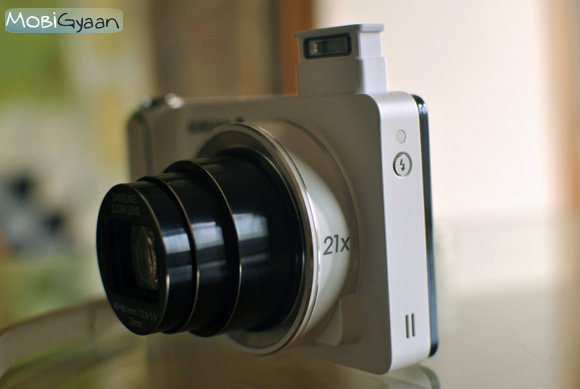 Being a photographer I was really psyched to hear that Android is now being used to run point and shoot cameras and so I played around with Samsung first ever Android based point and shoot camera, the Galaxy Camera.

SPECIFICATIONS:

16.3MP 1/2.3″ BSI CMOS Sensor

23 mm, 21x Optical Zoom Lens with f/2.8

100-3200 ISO range

4.8 inch HD Super Clear Touch Display

HSPA+ 21Mbps

Micro SIM slot

1.4GHz Quad-Core processor, 1GB RAM

Android 4.1 (Jelly Bean)

8GB memory, expandable via microSD card

Full HD video recording: 1920×1080 @ 30fps, 720×480 @ 120fps

HDMI

A-GPS, GLONASS

Wi-Fi

Bluetooth 4.0

DLNA

300gms

1650 mAh battery
PACKAGING:
 
The unit that we got comprised of the following: 
Galaxy Camera

Carrying Strap

Micro-USB data cable

Portable travel charger with USB port

User Guides
BODY AND DESIGN: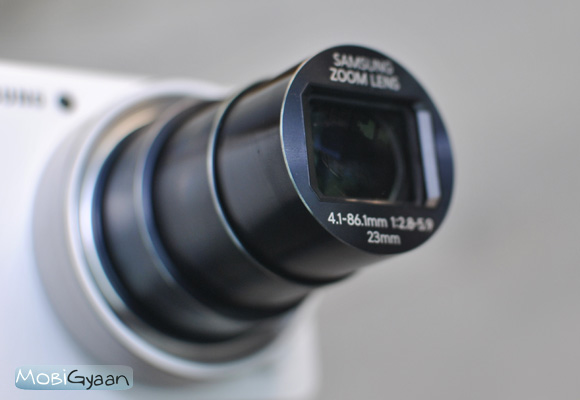 At first I noticed that the camera is pretty big and it weighs about 300gms which is not something that I would call 'compact'. It has a pretty bulky design and very plastic feel to it, almost dummy like. Most of the bulky-ness is due to the large 21x, 23mm wide lens, and the large 4.8 inch HD LCD display (mind you there is no AMOLED here).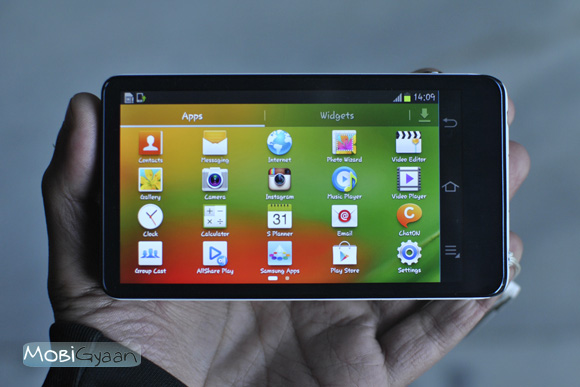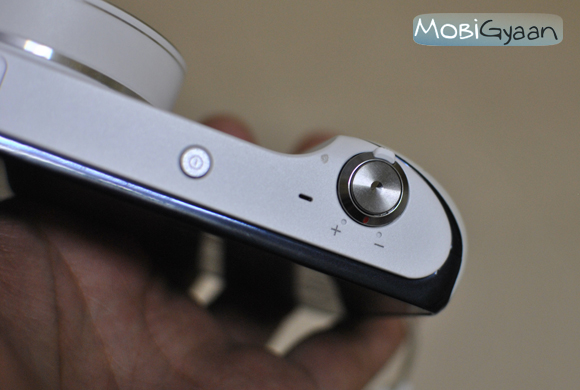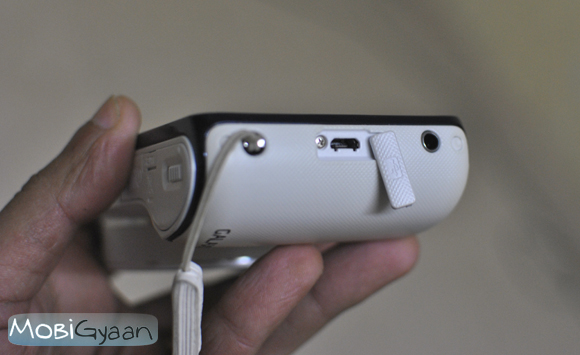 So the back only comprises of the large touchscreen that has a 720p resolution which is pretty bright and is protected by Gorilla Glass 2. The front has the large zoom lens and a small focusing LED. The top has the power/lock/sleep button, a pop-up xenon flash, and of course the shutter button which has a slider key that helps you to zoom in and zoom out. This slider key also works as the volume control for the camera. The left side has a small key that lets the flash pop out and below that is the loudspeaker. The right side has a 3.5mm audio jack, a micro-USB slot with a protective cover, and metal hinge for you to attach a carrying strap.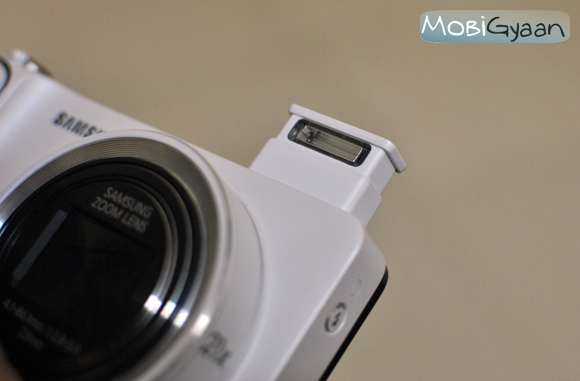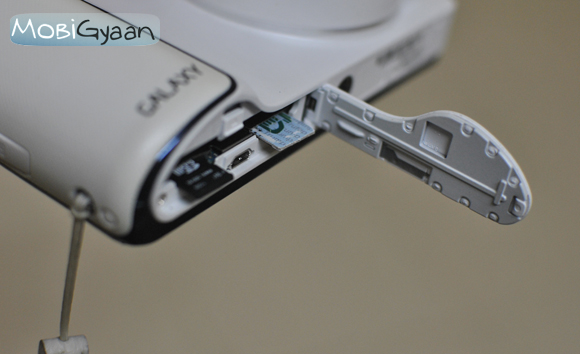 At the bottom you will notice a standardized camera hole which is to screw in a tripod. There is also locked compartment which when opened reveals a micro-HDMI port, the 1650mAH battery and the SIM and micro-SD card slots.
 
Overall I think Samsung should have done more in the looks department. I am not very pleased with the design as it kind of feels fragile and cheap. 
 
So that's the exterior, but inside this camera packs a lot of punch. It runs on an Exynos 4412 1.4GHz quad-core processor with a Mali-400MP GPU and 1GB of RAM. With Android Jelly Bean 4.1, the experience is buttery smooth.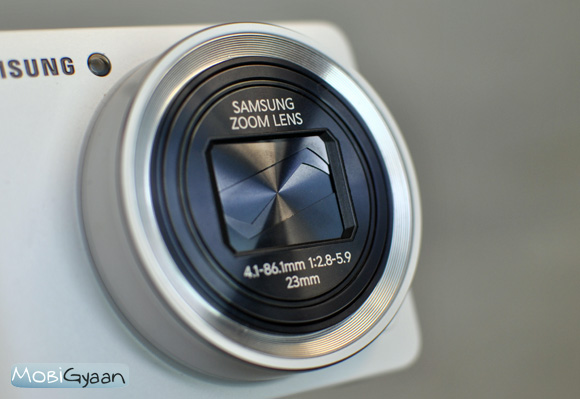 The camera specifications are pretty good as well. There is a 16.3 MP 1/2.3″ BSI CMOS sensor that captures pictures on 4608×3456 pixel resolution. The lens is a 23mm wide lens which can go up to 21x zoom and can reach an aperture of f/2.8 !! The camera can record HD videos of 1080p@30fps and 768×512@120fps.
 
CAMERA: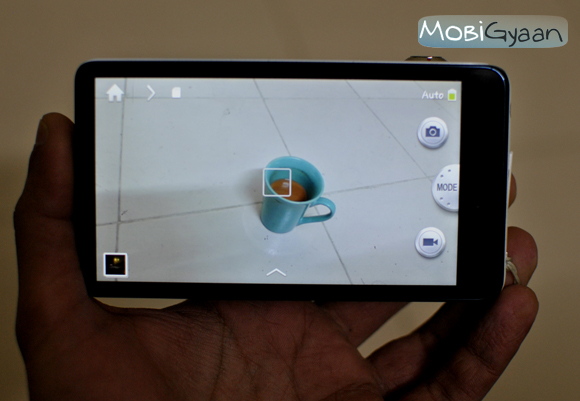 So first things first, the camera UI and the features it offers. The camera app is way different than what the other Samsung Galaxy smartphones have. It gives you a full feel of a compact digital point and shoot camera with various modes and features.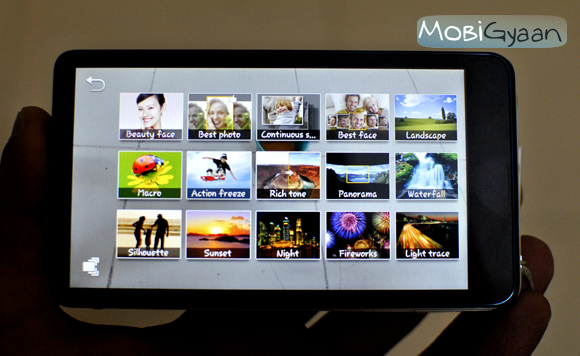 There is the most obvious Auto mode which automatically lets you click pictures effortlessly. To aid you further, there is the Smart mode which has various presets for various conditions you want to shoot in. These include Action Freeze, Panorama, Sunset, Night, and so on. The mode is pretty handy if you are new to photography and want quick and good results.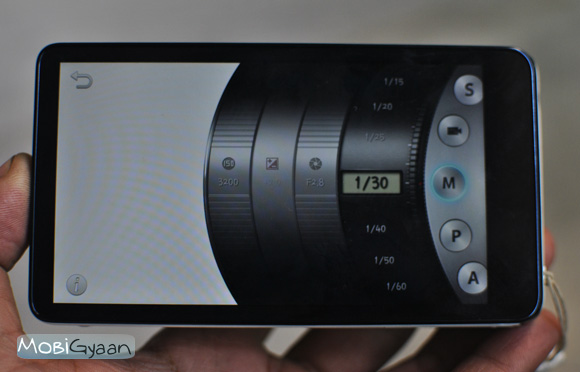 Then there is the Expert mode which lets you shoot in manual, shutter and aperture priorities and also has a program mode. The interface of the expert mode is just brilliant. You can set your ISO, shutter speeds, aperture and even exposure compensation. The ISO range is from 100 to 3200, shutter speeds go from 16 seconds to 1/2000th of a second and the aperture range is from f/2.8 to f/8. The exposure compensation ranges from 2 stops under exposure to 2 stops over exposure.
 
Other than the modes you can fiddle with your white balance as it offers the usual white balance presets including Auto, Daylight, Cloudy, Fluorescent, Tungsten and Custom.
 
The xenon flash is a pretty nice addition although I am not a big fan of pop-up flashes. It does help in freezing objects and can be used to fill in some light while shooting in the night.
 
Of course being a 'smart' camera it comes with various filters and effects like black and white, sepia, negative, etc. The highlight of the camera is of course that it lets you share, post and save your pictures instantly via 3G or Wi-Fi to any of the social websites, email, Bluetooth, cloud and so on.
 
So, what about the results? Well the pictures come out sharp and focusing is fairly good for a point and shoot. However I've noticed that some pictures which look brilliant on the camera's display are sadly not so good when transferred and seen on a large display. But that is just for some pictures as I did a bit of a stress test.
 
Low light performance of the camera is not that bad considering it has an f/2.8 and you can pump up the ISO to 3200. But there are limitations to it, as I said earlier in certain conditions, when you view the pictures on a larger screen and blow them up you can see that there is a lot of noise and loss in quality.
 
In bright daylight, the results are just brilliant. The colors, contrast and saturation are balanced well and the pictures are good enough for large prints.

Video recording can be done in a simple mode and another mode where you can set the exposure compensation. The videos are of very fine quality and full HD videos are recorded seamlessly without any lags as such. You can also record 720p video at an amazing rate of 120fps.
 
OS AND MULTIMEDIA: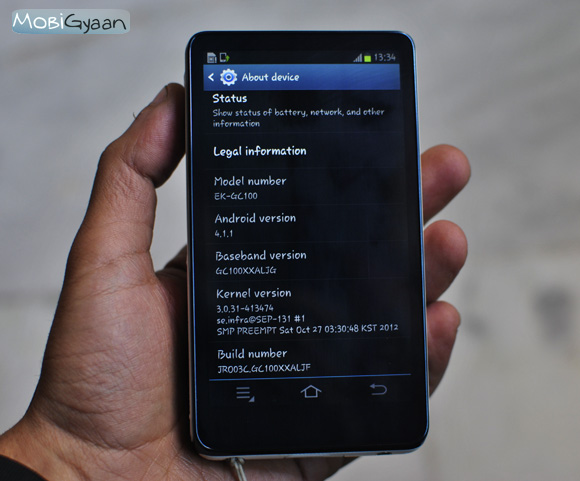 The device runs on Android 4.1 Jelly Bean with Samsung's TouchUX. It comes preloaded with a number of apps which make the experience of the Galaxy Camera even better. Apps like Instagram, Photo Wizard, Video Editor, Paper Artist keep you busy and thanks to Dropbox you can directly transfer your pictures to the cloud storage.
 
Samsung has also given a number of goodies for the camera which make the experience of the device like a smartphone itself including its various S-Apps.
 
With 3G and Wi-Fi capability, the device lets you stay connected to your social media, the web, and email and even lets you message via text, Whatsapp, and of course you can access tons of apps from the Google Play Store. The device also has DLNA (AllShare) and an HDMI port which lets you stream your media on a larger display.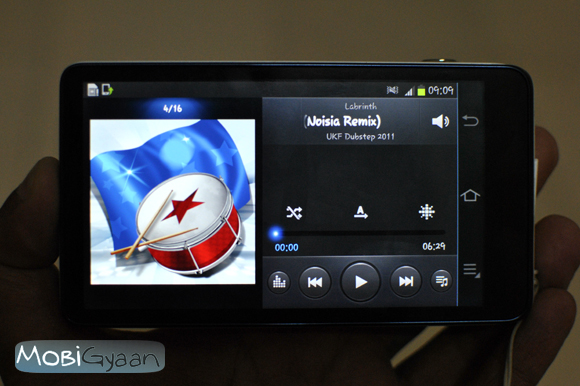 Besides the camera jibber-jabber, the Galaxy Camera is an excellent multimedia device. The large bright 4.8 inch display and the quad-core processor work effortlessly if you are viewing movies and videos. The music quality and output via the 3.5mm audio jack and the loudspeaker exceeded my expectations. Samsung did I swell job in bringing almost all the Galaxy S3 features on the Galaxy Camera.


 
CONCLUSION:
 
I love cameras, and I love shooting almost every day but I would think twice about this camera. It sure has its plus points as it is a pretty awesome camera with the features of smartphone, but it is pretty huge, bulky and the plastic quality just doesn't attract me. Well that's my opinion.
 
If someone asks me if the device is worth the Rs. 29,990 price tag, I would say it's a little steep, but only a little mind you. If you need an all in one device, this is the perfect choice, but if you want a camera with Android, hold on to your money as other companies are coming up with their own Android powered cameras.