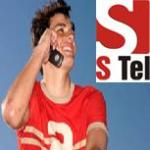 S Tel has launched, "Talk Today, Free Tomorrow" (TTFT) – for its consumers in Odisha (Orissa). Priced at Rs. 19, the TTFT plan allows S Tel subscribers to make as many free local minutes the next day as are utilized by them today. Consumers will be informed through an SMS regarding the FREE minutes available to him/her every day. Alternatively, customers can also check their free local balance at any point by dialing *118# from their mobile phones. The pack comes with a validity of 30 days.
Announcing the launch of the product at a press conference in the city, Mr. Shamik Das, Chief Executive Officer, S Tel said, "S Tel prides itself in being able to identify and cater to the unaddressed needs of the communities and offer relevant products and services. The 'Talk Today, Free Tomorrow' plan is our endeavor to encourage the mobile users to stay connected with their near & dear ones throughout the day."
Commenting on company's reach and expansion plans for Odisha market, Mr. Das said, "We are excited to have garnered nearly half a million subscribers in the region and continue to witness an encouraging growth. Since S Tel first began services in Odisha in December 2010, we have made our services available in 42 towns and 3200 villages across the state with our state of art, 3G ready networks of 900 towers. We plan to further scale up our presence in the state and aim to cover 100 towns and 6500 villages in a year's time, thereby spanning 70% of the towns in the circle. To meet this goal we will be installing another 900 towers by June 2011," he added.
Bhubaneswar, Cuttack, Rourkela, Berhampore, Balasore, Bhadrak, Sambalpur and Paradeep are some key locations among the 42 towns in which S Tel's services can be accessed presently.