Samsung is a smartphone/tablet brand that keeps moving from strength. One reason for this is the brand reach. It has vast pockets and vast manufacturing experience which enables it to create a vast range of products for almost every arena of the incredibly vast smartphone/tablet market. But there is another reason, that is not talked about much when it comes to Samsung's success – it has paid huge attention to every market and not just attended to the whims and fancies of the U.S. and European markets. As a part of its new endeavor on this front, Samsung has launched regional language support for its smartphones and tablets.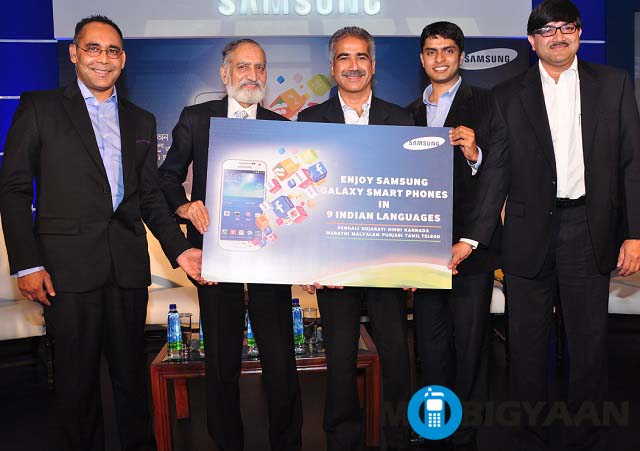 The first of devices to support this feature will be the Galaxy Grand, Galaxy S4 and Tab 3. These devices will boast of support for Hindi, Punjabi, Bengali, Tamil, Telugu, Kannada, Malayalam, Marathi and Gujarati. In case you have been wondering about support on the mid-range smartphone that you own, Samsung will roll out language support for more affordable devices such as Galaxy Star pretty soon. You wouldn't just be able access your menu and widgets in your language, but a slew of Indian apps like Bharat Matrimony, BSE and MyDala which will pertain to the Indian audience along with hundreds of other apps in regional languages. You will actually be able to use apps like the ChatOn messenger, Gmail and Facebook in your regional language.
Mr. Vineet Taneja, Country Head, Samsung Mobile and IT, Samsung India, says,"Availability of content combined with easy access is the key driver for usage of any language. We clearly sense a need and a demand amongst users to communicate in local languages using their mobile devices. That is the reason, as an industry leader, we are taking the lead by offering users the ease of accessing regional language content in their preferred language."
Samsung is not just putting out language support but actually working side-by-side with app developers to expand the users' experience.
Samsung's endeavor is an effort to cash on the new user base that can built relying not just on the urban hipsters who love to tote their smartphones, but an actual audience that can afford to buy smartphones but lives outside the urban scene. This endeavor on the part of the brand will open up the market to people who can and want to get their hands on a smartphone but do not understand the workings of it since it is in a language they are not completely comfortable with.
We believe this endeavor on the part of Samsung deserves some kudos from our side and if it is successful, other brands will follow its line soon.