Samsung introduces its two new tablets Samsung Galaxy Tab S3 and Samsung Galaxy Book aimed at the high-end market offering a premium mobile experience. This year at MWC, instead of showcasing the most anticipating Galaxy S8 smartphone, Samsung concentrates on the Windows and Android tablets and going through a special launch event for Galaxy S8 later.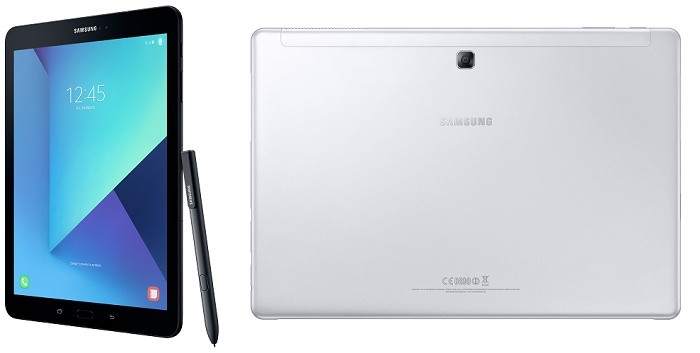 If we speak about these two tablets, the Samsung Galaxy Tab S3 will be based on the Android operating system while the latter – Samsung Galaxy Book, which comes in two different variants, will be running Microsoft's Windows 10 operating system. Both devices support a 10-bit colored HDR video content which is a premium feature by Samsung. More on the tech is their brand-only features like the Samsung Flow, Refined S Pen, and Samsung Smart Switch.
The Galaxy Tab S3 comes with a large 9.7-inch Super AMOLED QXGA display (2048 x 1536 pixels resolution) with Android 7.0 Nougat software. On the performance side, it is backed up with a Qualcomm Snapdragon 820 CPU with 4 GB RAM and 32 GB onboard storage expandable with a MicroSD card.
Samsung has introduced the classic S Pen as seen on their Galaxy Note series. The Galaxy Tab S3 is the first Samsung tablet to feature quad stereo speakers tuned by AKG by HARMAN for premium visual and listening experiences.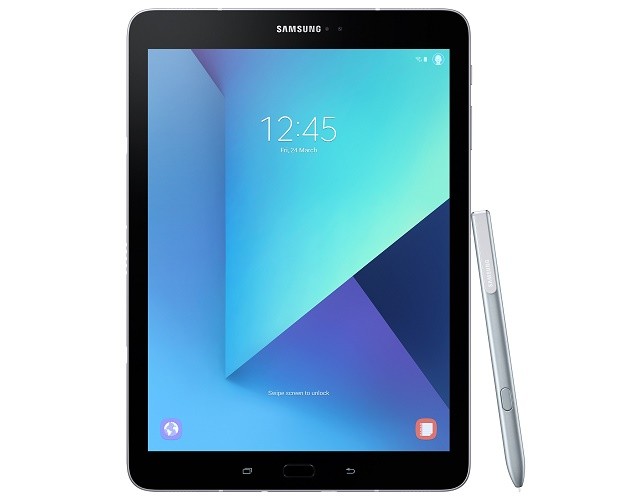 Samsung Galaxy Tab S3 Specifications
Display: 9.7-inch Super AMOLED QXGA display (2048 x 1536 pixels resolution)
Operating System: Android 7.0 Nougat
Fingerprint Scanner: Yes, on home button
CPU: Up to 2.15 GHz Quad Core Processor, Qualcomm Snapdragon 820 SoC
Storage: 32 GB, MicroSD up to 256 GB
Main Camera: 13 MP autofocus with LED flash, 4K video @30fps
Front Camera: 5 MP, 1080p video @30fps
Connectivity: USB Type-C 3.1, Wi-Fi 802.11 a/b/g/n/ac, 2X2 MIMO, Wi-Fi Direct, Bluetooth 4.2, GPS + GLONASS, BEIDOU, GALILEO
Sensors: Accelerometer, Hall Sensor, RGB Sensor, Fingerprint Sensor, Gyro Sensor, Geometric Sensor
Cellular: 4G LTE, Cat 6 (300 Mbps)
Others: Samsung Smart Switch, Samsung Notes, Air Command, Samsung Flow
Battery: 6,000 mAh, Fast Charging
Dimensions: 237.3 mm x 169.0 mm x 6.0 mm
Weight: 429 grams (Wi-Fi), 434 grams (LTE)
On the other hand, the Galaxy Book has enhanced power and performance in a 2-in-1 design which caters to those who are looking for a full desktop computing. As these tablets are convertible, the Galaxy book has a versatile form factor, so it can easily transform to a notebook from its tablet shape. It also features a physical keyboard having tactile keys to give you a comfortable typing experience.
The Samsung Galaxy Book has two variants: The 10.6-inch Galaxy Book uses a TFT LCD screen while the 12-inch comes with a Super AMOLED panel. The Galaxy Book (10.6-inch) is powered by a 2.6 GHz dual-core 7th Gen. Intel Core M3 processor with 4 GB RAM and 64 GB / 128 GB eMMC storage that can be extended using a MicroSD. It offers a 13 MP camera on the front and no back camera.
The Galaxy Book (12-inch) is powered by a 3.1 GHz dual-core 7th Gen. Intel Core i5 processor with 4 GB RAM and 128 GB / 256 GB SSD storage (expandable up to 256 GB using a MicroSD). It does offer two cameras, one on the rear 13 MP camera and one on the front 5 MP camera.
The battery life, according to Samsung, is around 10 hours for Galaxy Book. Although of course, the price and availability for these tablets are unknown at the moment.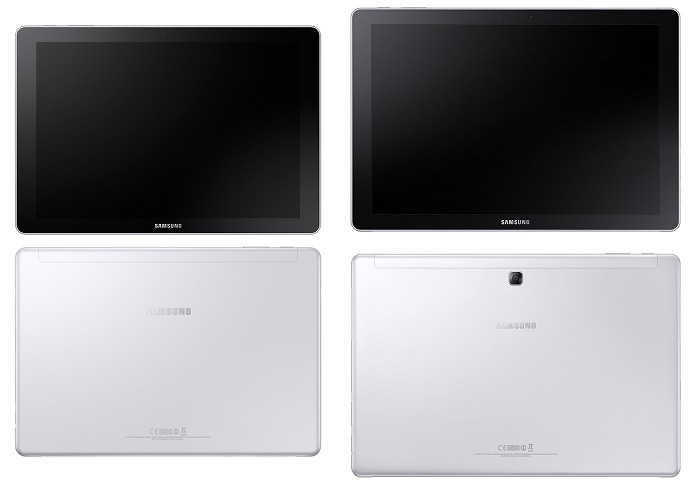 Samsung Galaxy Book 10.6-inch Specifications
Display: 10.6-inch Full HD TFT display (1920 x 1080 pixels resolution)
Operating System: Microsoft Windows 10
CPU: Up to 2.6 GHz dual-core Intel Core M3 processor (7th Gen.)
Storage: 64 GB OR 128 GB eMMC, MicroSD up to 256 GB
Main Camera: Front 13 MP fixed focus, 1080p video @30fps
Connectivity: USB Type-C 3.1, Wi-Fi 802.11 a/b/g/n/ac, 2X2 MIMO, Bluetooth 4.1 BLE, GPS + GLONASS
Sensors: Accelerometer, Hall Sensor
Cellular: 4G LTE, Cat 6 (300 Mbps)
Others: Samsung Notes, Air Command, Samsung Flow
Battery: 30.4W, up to 10 hours life, Fast Charging
Dimensions: 261.2 mm x 179.1 mm x 8.9 mm
Weight: 640 grams (Wi-Fi), 650 grams (LTE)
Samsung Galaxy Book 12-inch Specifications
Display: 12-inch Super AMOLED FHD display (2160 x 1440 pixels resolution)
Operating System: Microsoft Windows 10
CPU: Up to 3.1 GHz dual-core Intel Core i5 processor (7th Gen.)
Storage: 128 GB OR 256 GB SSD, MicroSD up to 256 GB
Main Camera: 13 MP autofocus, 1080p video @30fps
Connectivity: 2 x USB Type-C 3.1, Wi-Fi 802.11 a/b/g/n/ac, 2X2 MIMO, Bluetooth 4.1 BLE, GPS + GLONASS
Sensors: Accelerometer, Hall Sensor
Cellular: 4G LTE, Cat 6 (300 Mbps)
Others: Samsung Notes, Air Command, Samsung Flow
Battery: 39.04W, up to 10.5 hours life, Fast Charging
Dimensions: 291.3 mm x 199.8 mm x 7.4 mm
Weight: 754 grams (Wi-Fi, LTE)
"At Samsung, we are committed to expanding the boundaries of the mobile and computing experience by providing best-in-class products that satisfy mobile users' diverse needs and demands," said DJ Koh, President of Mobile Communications Business, Samsung Electronics. "Our new tablet portfolio is built with premium technology that delivers a productive and versatile experience to consumers, designed for users at home, work or on the go."