Finally, we are entering into the smartwatch era. Samsung has officially unveiled the Galaxy Gear smartwatch – one of the most awaited smartwatches this year at the IFA 2013.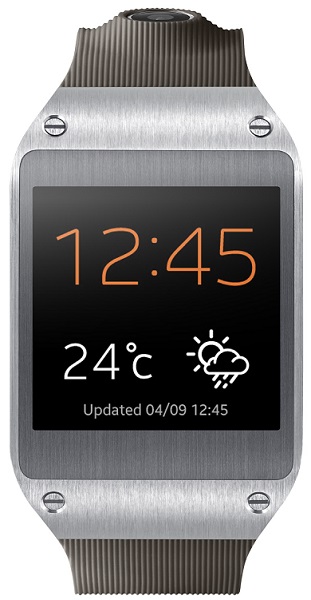 "Samsung's ongoing smart device innovation leadership reflects our commitment to listen to our consumers, who want their daily lives to be easier and more enjoyable. Samsung GALAXY Gear benefits consumers by integrating smart device technology even deeper into their everyday lives, and bridges the gap between the mobile device and fashion worlds to create truly wearable technology," Samsung Mobile and IT division head, Mr. JK Shin said at the launch.
Samsung's Galaxy Gear smartwatch is just a simple way to communicate via your wrist, It will connect to your Galaxy smartphone and notify you of calls, texts, emails alerts, push messages. You can also view full content expanded on its screen.
Besides this, you can also give out voice commands or answer calls via your Galaxy Gear smartwatch. In fact, you can just call someone directly from the Galaxy Gear smartwatch using voice commands. It also has a 1.9-megapixel camera for taking pictures right from your wrist.
You can also use features such as Auto lock – your phone automatically gets locked if it is more than 1.5 metres away from your Gear smartwatch. A find my device feature will make your smartphone beep, vibrate or illuminate right from your smartwatch. You can also use it as a music controller  for your device or as a fitness tracker with its built-in pedometer. It can show key personal data such as calories burned, steps taken and distance covered.
It also comes with an Atooma, Banjo, Evernote, Glymse, eBay and Line apps besides feature apps from Samsung such as MyFitnessPal, Path for social networking, Pocket for offline reading and web content viewing, TripIt for travelling and a Vivino Wine Scanner for scanning wines!
Besides this it looks pretty cool with its edgy design and comes in a range of colors – Jet Black, Mocha Gray, Wild Orange, Oatmeal Beige, Rose Gold, and Lime Green.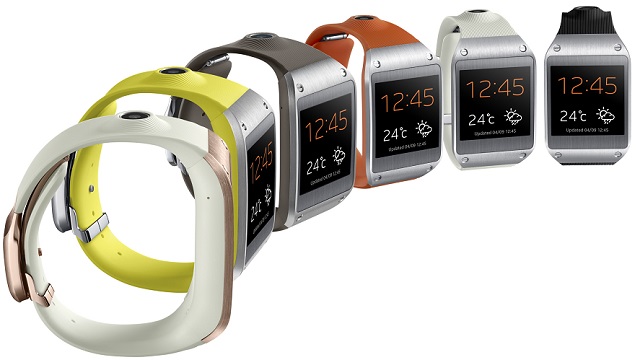 Specs of Samsung GALAXY Gear:
36.8 x 56.6 x 11.1 mm, 73.8g
800 MHz processor
1.63 inch Super AMOLED (320 x 320) display
1.9 Megapixel camera
Bluetooth v 4.0
Accelerometer, Gyroscope
4GB Internal memory + 512 MB (RAM)
Standard battery, Li-ion 315 mAh