It's been quite some time that the Samsung Galaxy Note 3 rumours have been surfacing regularly. One of them claimed that the device would have a 5.99 inch fHD display, but serial tipster, @evleaks who is known for their credibility thinks otherwise.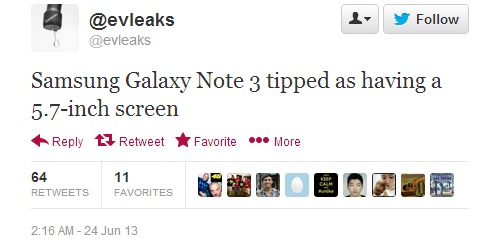 According to @evleaks, the Samsung Galaxy Note 3 is supposed to have a 5.7 inch screen only. It is quite possible that the overall device size is still 5.99 inch and the remaining space would house the S Pen stylus. But a 5.7 inch Note 3 would also be highly appreciated by the hands.
While earlier leaked pictures of the Samsung Galaxy Note 3 did show a highly compact design like that of the Galaxy S4, it's hard to decide the actual screen size of the device. Knowing that Samsung wouldn't wait too long to launch the Note 3, it might be just a few weeks before we know the exact details.