Whenever we see a new smartphone reach the market, we also see a series of tests that all the crazy people out there try on the devices and one of the favourite of all is the drop test. The device in question is Samsung's Galaxy S III Android Smartphone which is feeling the heat. The S III comes with Corning's Gorilla Glass 2 which is said to be strong, but it seems it is not as strong to even be able to bear an accidental drop.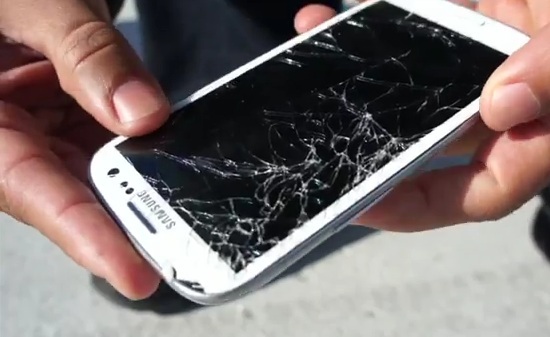 We have seen the glass of the S III get damaged in a simple drop test and now it's time to take it a step further. This time People from SquareTrade, an electronics warranty fulfilment company have tested the S III and it has failed!
The Galaxy S III was tested side-by-side with Apple's iPhone 4S in different three tests, which included dropping the smartphones from ear-level, getting dropped by children accidently and leaving the phones unattended and dropping them from the top of a speeding car.

There was only one phone which survived them all and it was Apple's iPhone 4S. YES! In the first test itself, Galaxy S III was in deep trouble. When both the phones were dropped from the ear-level, the iPhone 4S just got a few bruises here and there while the S III's screen had a long crack on the screen which stretched from top to bottom.

In the second test, Kids were asked to rigorously toss each device back and forth where the iPhone 4S' back was shattered but still survived and it was the same with the S III. Next the smartphones were left unattended on the top of a speeding car and the devices saw a brutal fall.

In this test, the iPhone 4S didn't seem to have much impact of the fall but on the other hand the Galaxy S III was totally destroyed as you can see in the video below which has all the three tests. So the next time you drop your new Galaxy S III, you do know what might be the result of the drop. Be careful.