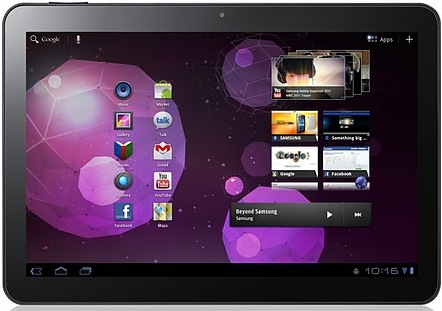 Samsung was the first to take the world by storm with its Galaxy Tab. But the device by itself touted a next-version-in-near-future feeling. But Motorola was the first to introduce the Tegra 2 dual core Android tab: Xoom. Samsung, not wanting to be left behind, unveiled the Samsung Galaxy Tab 10.1 at the MWC in Barcelona yesterday. The new tab is powered by 1GHz dual core NVIDIA Tegra 2 processon. Its got a 1280 x 800 TFT capacitive display with front and back cameras. The rear camera is a 8MP capable of full HD with LED flash and the front is a 2MP camera. The internal storage comes in 2 options 16 gb and 32 gb. The device is equipped with full data connectivity options like 3G, GPRS, Edge, +EDR, WiFi, BT, USB, etc. It weighs just 600 gm along with its 6860 mAH battery. The pricing and release dates are not yet announced. But this is definitely an exciting year for the tablet market.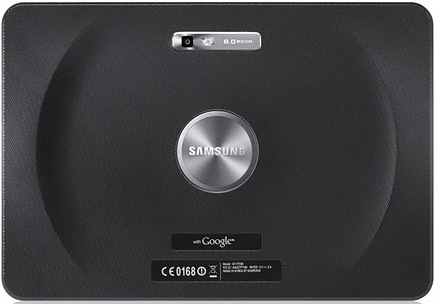 Samsung GALAXY Tab 10.1" Specifications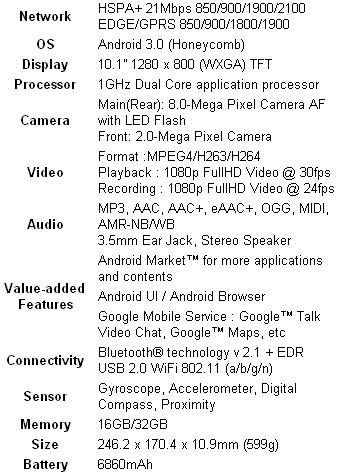 Press Release
Samsung expands the Samsung GALAXY Tab range with a 10.1" Entertainment Powerhouse
Global launch of Samsung's first Honeycomb-based, Dual Core smart media device
BARCELONA, February 13, 2011 – Samsung Electronics Co. Ltd., a provider of smart media devices and the global leader in Android™ tablets, in partnership with Vodafone Group, today announced the Samsung GALAXY Tab 10.1 (Model: P7100), a powerful Dual-Core Android 3.0 (Honeycomb) Smart Media Device, designed to deliver the ultimate mobile entertainment experience.
"As a leader in the Android-powered tablet market, Samsung is committed to providing a variety of feature-rich, always-on devices" said DJ Lee, Executive Vice President and Head of Sales & Marketing. He continued, "The Samsung GALAXY Tab 10.1 is a valuable addition to our expanding portfolio of smart media devices. Sporting a large 10.1 screen and dual surround-sound speakers, it enables users to enjoy multimedia to the maximum extent without having to compromise mobility.
Patrick Chomet, Vodafone's Group Director of Terminals, said: "Vodafone customers in over 20 markets around the world will be the first to get the GALAXY Tab 10.1 when it goes on sale this spring. Samsung have produced a stylish, market-leading implementation of the new Android 3.0 platform which will be the first Honeycomb device to arrive in many of those markets. Vodafone's competitive data tariffs and reliable, high-speed networks make using the GALAXY Tab 10.1 a great experience."
"Samsung continues to develop innovative products that contribute to the continued growth of the Android ecosystem," said Andy Rubin, Vice President of Engineering at Google.
As the tablet market experiences unprecedented interest, Samsung and Vodafone have partnered to cater to customer demand and offer them the perfect way to enjoy the huge variety of opportunities the Android platform provides. Whether playing games, reading eBooks or updating your Facebook status, the lightweight, ultra-slim Samsung GALAXY Tab 10.1 is the ultimate entertainer and builds on the industry-wide success of the two million-selling Samsung GALAXY Tab.
"As more employees are empowered with mobile access to enterprise systems, applications and data through their device of choice, the requirement for IT to support the widening array of device types can be extremely complex and unwieldy," said Willie Jow, vice president enterprise mobility, Sybase. "The combination of Samsung's leading devices and Sybase's best-in-class management and security solution now bring Android to the level enterprises require for full-scale deployments."
The Ultimate Entertainment Experience A 10.1" (WXGA TFT LCD) display with crystal clear resolution (1280 x 800) makes the Samsung GALAXY Tab 10.1 an unrivalled device for experiencing the hundreds of thousands of games and applications available from Android Market™. To compliment the amazing visual quality of the device, the GALAXY Tab 10.1 includes dual surround-sound speakers to immerse you even more fully.
The device also includes an 8 megapixel rear-facing camera with Auto Focus and a 2 megapixel front-facing camera which lets users capture experiences with the best-in-market full HD record and play as well as easily share them. With the Android browser and Flash 10.1, the Samsung GALAXY Tab 10.1 is the perfect tool for consuming the world of the internet content wherever you are.
Performance and Speed Combined with the latest version of Android's tablet-optimized operating system, Honeycomb, Samsung has created a device that is powerful and lightning fast.
The Samsung GALAXY Tab 10.1 includes a 1GHz Dual Core application processor, giving you the kind of fast and powerful multimedia and web browsing experience. Samsung Galaxy Tab 10.1's Dual Core processor, low power DDR2 memory and 6860mAh battery, make it perfect for task management in an energy efficient way.
Maximized Portability At just 599g in weight and mere 10.9mm- slimness, the Galaxy Tab 10.1 is lighter, slimmer and more portable, meaning users are free to enjoy its many features while on the move. With the need to remain constantly connected, Samsung has also included super-fast HSPA+ 21Mbps, Bluetooth® 2.1+EDR and Wi-Fi 802.11 a/b/g/n connectivity to support rapid mobile download speeds and reduce data transfer times.