Samsung has unveiled its next generation Gear VR glasses with motion controller at MWC, Barcelona. The Oculus-powered virtual reality kit is the first ever VR with a controller and it is announced before the release of its sole flagship smartphone Samsung Galaxy S8.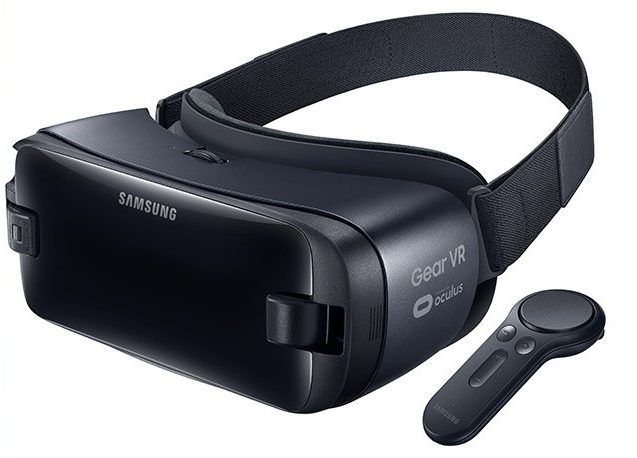 While the Samsung Galaxy S8 is said to be announced in the late March, this new Gear VR along with its controller will be expanding Samsung's VR ecosystem and make virtual reality experience much easier. Unlike other VR glasses with a display built-in, the Gear VR does not boast a screen, but instead, you put the smartphone into the VR box in a conventional way and it delivers you the 3D experience right on your smartphone's screen.
It features an ergonomic design with curves on the edges offering convenient one-hand control and better motion interaction using its motion controller with minimized head movement. For optimal play and convenience, the controller comes with a touchpad that makes it easy to navigate the phone's interface as well as it is integrated well with the apps and games i.e. actions like pointing, grabbing, aiming, tilting and shooting with the controller. The navigation keys such as Home, Volume and Back keys located right on the Controller itself giving you quick access. And with during the most intense controller actions, you can tie the wrist strap to secure a grip.
The Gear VR offers 42 mm lenses with 101 degrees field of view and advanced distortion correction technology to minimize motion sickness. It supports Micro USB along with a USB Type-C converter bundled. The Gear VR can be powered by 2 AAA batteries which last 40 days on 2 hours daily usage. It weighs 345 grams that include the controller. All currently running Samsung flagships are supported Galaxy S7, S7 Edge, Note 5, S6 Edge+, S6 and S6 Edge. The USB Type-C adaptor may indicate that the Galaxy S8 will probably be having a USB Type-C port.
Younghee Lee, Executive Vice President of Mobile Communications Business, Samsung Electronics said,
"At Samsung, we are focused on setting and exceeding the standard for VR experiences, making them even more accessible and delivering the highest in quality,"
"The Gear VR with Controller expands our VR ecosystem to help consumers get more engaged and immersed in VR content – whether it's games or videos."
Samsung Gear VR Specifications
Optical Lens: 42 mm lenses with 101 degrees field of view
Control & Function: Touchpad (Clickable), Trigger, Home Key, Back Key, Volume Key
Sensors: Accelerometer, Gyrometer, Proximity
Battery: 2 AAA Cells (1000 mAh, 40 days life on 2 hours of daily usage)
Compatibility: Galaxy S7, S7 edge, Note5, S6 edge+, S6, S6 edge
Dimensions: 207.8 mm x 122.5 mm x 98.6 mm (Gear VR), 108.1 mm x 48.1 mm x 38.2 mm (Controller)
Weight: 345 grams (64.3 grams controller)