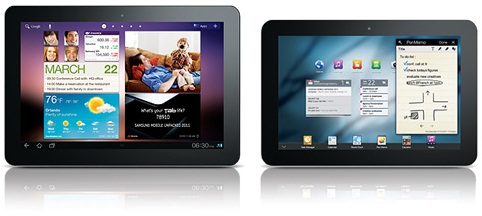 Samsung Electronics has officially launched its latest and newest addition to its tablet portfolio the Galaxy Tab 750 and the Galaxy Tab 730. The new tablets are slim, sleek and yet powerful. The launch saw Samsung India Electronics Country Head Mr. Ranjit Yadav, Samsung Electronics Vice—President, Marketing Mr. Asim Warsi, and the brand ambassador, actress and model Mrs. Lara Dutta.
The tablets boast an Nvidia Tegra 1GHz dual core processor to provide amazing processing speeds. Other specs of the tablet include Android 3.1 Honeycomb with Touch-Wiz 4.0, 1GB of RAM, 16GB internal memory, 3G HSPA+, Wi-Fi, Bluetooth 3.0, and a chunky 7000mAH battery that provides about 9 hours of continuous video playback. The tabs also include a front 2MP camera and a rear 3MP camera.
Commenting on the launch Ms. Y.H. Lee, Senior Vice President, Global Marketing, Mobile Communications Business, Samsung Electronics, said "Consumers all over the world are adopting easy to use and powerful smart mobile devices. India presents some of the best growth opportunities for smartphones and tablets, which is why it is one of the first few markets where we are launching these new revolutionary tablets."
The 750 which is a 10.1 inch sized tablet is priced at Rs. 36,200 and the 730 which is an 8.9 inch sized tablet is priced at Rs. 33,990. The 750 will be launching this month and will be available on Vodafone with a 2GB data download free every month for 6 months at Rs. 3000. The 730 will be launching some time in September. Samsung is also offering various accessories for the tablets including keybaords, HDMI adapters, USB-on the go adapters and docks.
For official pictures of the launch event, visit our Facebook page.