While we are still waiting to see what Samsung has to offer with its own custom OS which it launched to challenge Android, experts have started to comment that the OS is dead already.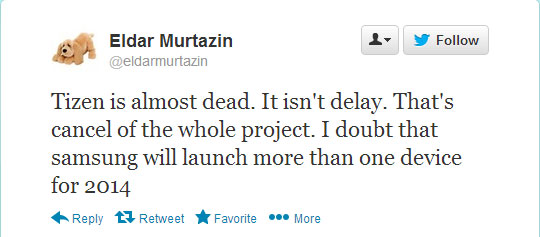 According to Russian blogger Eldar Murtazin, Tizen is almost dead. The so called delay in launch of the first Tizen powered phone due to lack of apps, is really due to cancellation of the Tizen project. He also claims that's it quite possible that Samsung wouldn't launch more than one Tizen device in the upcoming year 2014.
According to sources close to Samsung, the Tizen based phones were delayed because the company wants to add more apps for the platform before launching the phone and not the other way round. Meanwhile there are also reports that Intel is doing a more interesting Android based project that may also involve Samsung.