The Google Glass has created a lot of buzz, even though we are still waiting on its commercial release. Now, it seems that Samsung might be working on its version of the Google Glass called the Gear Glass and unlike the Google Glass, the product might hit the market within the coming 6 months.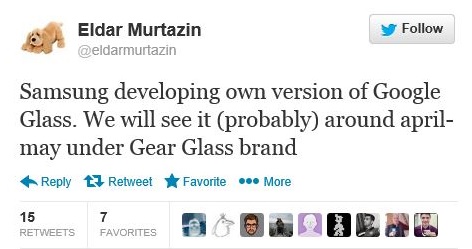 Blogger Eldar Murtazin who in the past has given out trustworthy leaks has tweeted that Samsung might be involved in the project of designing its own glasses. While one should not place too much credence on rumors, this kind of seems the obvious way to go for Samsung, since the smart glasses domain is picking up and Samsung is already working on researching and developing wearable technology avenues.
Samsung has been willing to experiment and be innovative in the market, as is evident from its Gear smartwatch. So, we would be hopeful until a confirmation or denial comes from the company.