A leaked photo is doing the rounds which suggest that Korean giant Samsung is internally testing prototype devices with 3 GB of RAM.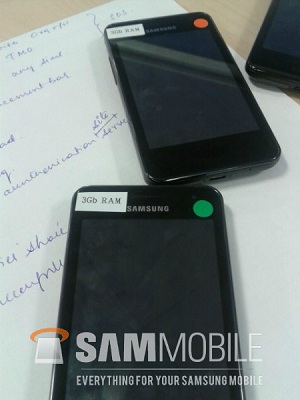 Yes, you read it right. While the trend of 2 GB of RAM on-board a smartphone is just catching pace, Samsung is might already be planning to release its 2013 smartphones with 3 GB of RAM on-board.
SamMobile, who was sent in the picture of the prototypes with a '3GB' sticker on the top says that the source has indeed confirmed that the prototypes are indeed running with 3 GB of RAM and are scheduled to arrive for a 2013 launch.
 
You might also have noticed that the prototypes are not carrying a physical home button and according to the source, in 2013 Samsung is planning to do away with it and carry capacitive on-screen buttons which is common these days.
 
While we feel that 1 GB of RAM is enough on smartphones that are available in the market today, it seems like soon '3 GB of RAM on-board' the next big thing. Oh and with this leak surfacing we have a feeling that the Samsung Galaxy S 4 might arrive with 3 GB of RAM and no homescreen button.
 
Please Note: The sticker are reading '3 Gb RAM' but the source has confirmed that it stands for Gigabytes, not Gigabits and the stickers are for internal use only.