We usually bring you tearing down of devices courtesy iFixit. Well, this time Samsung has saved their effort and has torn apart the Galaxy Note to show us what it looks from the inside.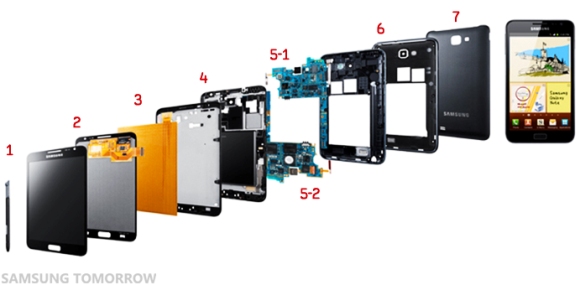 So check out all the components that run the Galaxy Note below.
1. S Pen
What would the GALAXY Note be without the S Pen? Still a pretty awesome phone, but that's not the point.
The S-Pen uses electromagnetic induction technology and has pressure sensitivity equal to a regular pen. Your input on the screen varies with the amount of pressure you put, making it a seamless re-creation of writing with an actual pen.
2. OCTA (On-Cell TSP AMOLED)

The 5.29 HD Super-AMOLED display (1280×800) is combined with the Touchscreen panel (TSP).
3. Digitizer
The digitizer interacts with the S-Pen to sense the pen-tip's location and the amount of pressure. By establishing an electromagnetic field, it blocks the noise and magnetism through the shield plate.
4. Bracket
The bracket is like the Note's backbone, holding together all the custom parts to maximize space efficiency.
5. Main PCB
With over 1000 different parts included in the mainboard, it fully utilizes Samsung's integration technology.
5-1 (Front)
Acceleration Sensor – Detects the tilting motion of the Note, whether you're turning it sideways for a widescreen view or turning it to play games.
Gyro Sensor – Detects the up, down and sideways motion of the phone.
Proximity Sensor – Detects when a detectable object comes close to the phone. Prevents unwanted input during calls or other situations.
Light Sensor – Detects the brightness, used to adjust the screen brightness accordingly.
Bluetooth/Wi-Fi – With BT 3.0 + HS support, allows for fast transmission between mobile devices.
NFC – Can used for close-distance communication, allowing users to use the phone like a credit card or transportation card.
WACOM IC – Used to actualize the S Pen's movement and use.
MISC – Front Facing Camera, DMB, GPS
5-2 (Back)
Internal Memory – 6/3GB of memory for storing lots of data including videos, music, etc.
LTE Modem Chip – The latest in communication technology, widely known as 4G.
1.5GHz Dual Core AP Chip – Twice the processing power with a dual core chip.
Misc – Back facing camera (with flash).
6. Rear case
The area that stores a variety of antennae and wires.
7. Battery Cover
The battery cover also stores the NFC antenna.