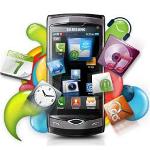 Samsung Electronics today launched its new smartphone platform "bada" in India. The 'bada' platform was launched at the 'Global Developer Day' organized by Samsung Electronics in Bangalore today. At this first ever initiative organized by Samsung, the Company engaged with the developer community and presented the unique benefits and unprecedented opportunities that the bada platform will bring to developers, mobile operators and consumers as well as gave an introduction to fundamentals of bada application development.

Speaking at the Global Developer day, Mr J S Shin , President& CEO , Samsung South West Asia, said  "Consumers no longer see mobile phones as devices for voice communications. Instead, they relate to their mobiles as communication hubs – as personal gateways to communicate with friends, family and the world at large .This is the era of Smart phones  and in the new Smartphone era, we are committed to making Smartphones available for everyone. Samsung 'bada', our new mobile platform is the key driver of our global smartphone strategy. I see the launch of Samsung bada as a powerful opportunity for developers all over the world, especially the vibrant Indian developer community renowned the world over, to get their applications onto an unprecedented number of Samsung devices worldwide".
Samsung bada possesses the following key characteristics:
User-interactive
Based on Samsung's signature TouchWiz User Interface, Samsung bada platform provides an easy, simple, and intuitive UI without compromising efficiency. To enhance creativity and user interactivity, Samsung bada provides flash control, web control, motion sensing, fine-tuned vibration control, and face detection. Also, it supports sensor-based, context-aware applications. By using various sensors such as accelerometers, tilt, weather, proximity, and activity sensors, application developers can easily implement context-aware interactive applications.
Service-oriented
Samsung bada differentiates its position by supporting various service-centric features such as social networking, device synchronization, content management, location-based services, and commerce services – all supported by back-end bada servers. These ground-breaking developer-friendly features support developers to implement various services with minimal effort.
Open and configurable
Samsung bada enables developers to take full advantage of mobile device capabilities to create compelling applications with ease. Applications can use device functions to make phone calls, send messages, or access the contact list.  Also, various service applications can share information such as personal profiles, social relations, schedules, or contents with a simple user confirmation in order to provide services with greater personal relevance and cooperative service extension. The flexibility of the bada platform makes it applicable to a wide range of devices than any other mobile operating system.