We've seen a number of projector equipped mobile phones in the past, but never a smartphone. Well, now a new smartphone has been announced by Samsung which is equipped with a projector lens. Introducing the Galaxy Beam which has a bright 15 lumens projector and allows you to project your photos, videos, presentation, etc so that you can share your content easily.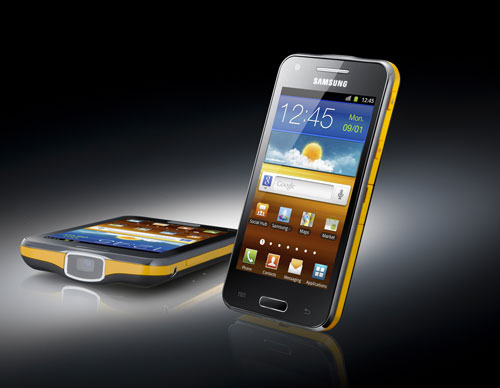 The smartphone allows you to project high-definition projection up to 50'' wide which is as big as a huge LCD display.

The smartphone runs on Android 2.3 Gingerbread, has a 1GHz dual core processor, a 4 inch TFT display with 480×800 resolution, a 5MP camera with a 1.3MP front facing camera, 8GB internal memory and a chunky 2000mAh battery. Connectivity features include Bluetooth 3.0, Wi-Fi, MicroUSB 2.0 and a 3.5mm audio jack.

The projector equipped smartphone hopefully will be showcased at the Mobile World Congress, and is said to be available from March.