With more and more people using smartphones with 3G/4G capability, the data consumption is only going to rise. However, people still prefer using Wi-Fi Broadband as it turns out to be a more cheaper option than the 3G/4G data packs. But, if you are an Airtel prepaid customer, you will be able to save up to 30% on recharge of data packs.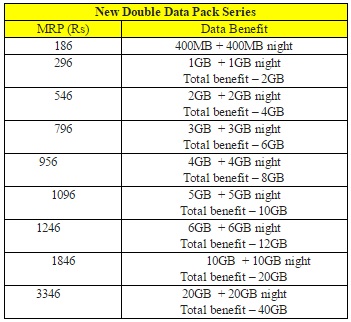 Bharti Airtel yesterday announced the launch of its Double Data Pack Series. With these new packs, Airtel customers can save up to 30% on recharges as compared to the existing data packs while also getting additional data usage at night.
"At Airtel, we are constantly innovating to provide a superior experience and great value to our customers. With increasing smartphone penetration and the customer need to stay online round the clock, we are redefining the value proposition with our new double data packs. Customers can now do more on India's largest smartphone network, without having to worry about exhausting their data limits." said Ajai Puri, Director – Market Operations, Bharti Airtel (India & South Asia).
The new data packs range from ₹186 for 400 MB regular + 400 MB night to all the way up to ₹3346 for 20 GB regular + 20 GB night. This means you actually get double data if you use the Internet during night time. Night time is counted between 12 am to 6 am.
The current prepaid data pack of ₹259 offers 1GB of 3G/4G data which comes with a validity of 28 days. If you do a recharge of the new double data pack of ₹296, you will get 1 GB of 3G/4G regular data along with 1 GB of 3G/4G night usage, which means a total of 2 GB data usage.
The price mentioned in the table above is applicable only to Delhi subscribers. Prices for these double data packs may differ for different circles.