Sony Xperia Arc S and Mini Pro not to receive Android 4.1 Jelly Bean
Sad news coming in for the owners of the Sony Xperia Arc S and Mini Pro as Sony UK has made it official on Facebook that these two smartphones from the company will not receive the latest Android 4.1 Jelly Bean update.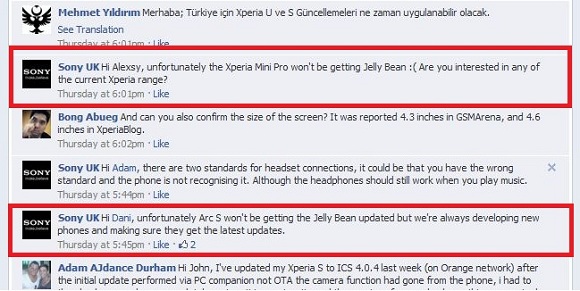 John Cooper, who is the UK product Manager for Sony Mobile, went on to take questions from customers on Facebook and while replying to the queries on the Android 4.1 Jelly Bean spilled the beans.

Sony has not yet made any official statement on its plans for the Android 4.1 Jelly Bean upgrade for its Xperia smartphones but it is being expected that the 2011 range of Xperia smartphones have been taken out of the list of eligible devices for Android Jelly Bean.

Though with this Sony also didn't make anything clear about which 2012 Xperia devices will get to taste the Jelly Bean upgrade but we are expecting it to reach almost all ICS running smartphones released by Sony in 2012.

But then, we cannot confirm anything unless we hear it all officially from Sony Mobile itself. So if you own a 2012 Xperia smartphone owners out there it is time to start praying for some Android 4.1 Jelly Bean love for your smartphone.