While we know that benchmark results of an unknown or upcoming devices can be easily faked, they could be genuine true and could provide some great information.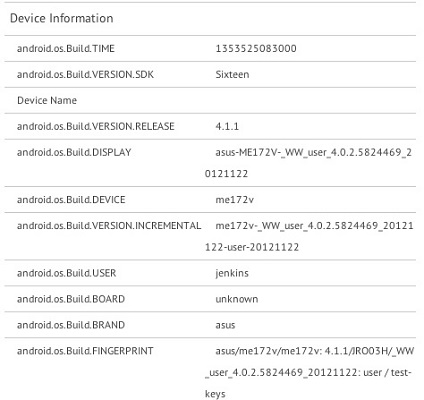 And today specs of a probable and long rumoured $99 Nexus 7 tablet have appeared over GL Benchmark. The device in is identified as "ME172V" and is built by ASUS.

The benchmark results point out that the "ME172V" could have a 7-inch display with a display resolution of 1024 x 600 pixels. Going by the results, It is powered by 1 GHz processor coupled with 1 GB of RAM.
 
There is 8 GB of internal storage on-board the ASUS built device and is powered by a 4270 mAh battery and interestingly enough also has a micro-SD slot for memory expansion which is missing from the original Nexus 7.
 
Also the ASUS-built device which was tested ran on Android 4.1.1 Jelly Bean OS which is quite old, now that the Android 4.2.1 is already out on devices. But it is also possible that the device was being tested on the OS for compatibility and might arrive with newer version of Android at the time of launch.
 
For now, we would advise our readers to take this piece of information with a grain of salt until we have something concrete on the tablet.