It has been quite common these days for Google to release apps from the stock Android and make them freely available. Just recently we saw the Google Calendar to compete with Samsung's Calendar and now we have the stock Android Keyboard available on the Google Play Store.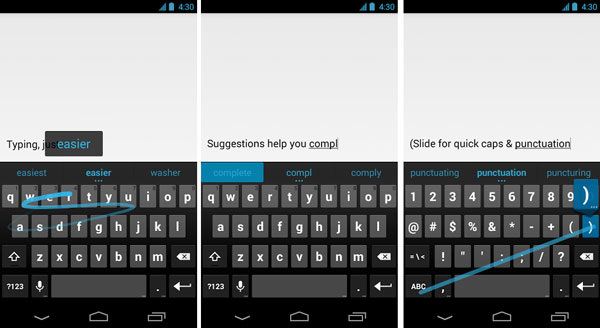 In a move that will come as a shocker to mobile companies and app's like Swiftkey, Google today launched its own stock Android keyboard for any device running v4.0 and above. The Android Keyboard supports 26 languages with features like autocomplete, next-word suggestions, gesture typing, voice dictation and advanced keyboard layouts.
 While gesture typing was available only for v4.2 and above, with this keyboard any device running v4.0 and above can use the gesture typing feature thus increasing the number of devices compatible and giving a stock Android experience even on heavily modified app. While this keyboard is not currently available in India, you can try downloading it from the Google Play Store.