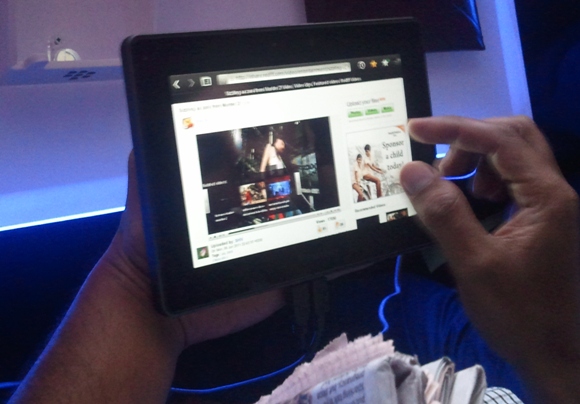 Tablet war is heating up with announcement of launch of BlackBerry PlayBook in India. The BlackBerry PlayBook comes in a portable design and features real-time multitasking and symmetrical multiprocessing. It delivers high-fidelity web browsing including support for Adobe Flash and HTML5, as well as High-Definition (HD) multimedia, advanced security features and out-of-the-box enterprise support.
The BlackBerry PlayBook is available in 16 GB, 32 GB and 64 GB models with WiFi, but sadly no 3G. The BlackBerry PlayBook is a multitasking powerhouse that looks and feels great in the hand, measuring less than half an inch thick and weighing less than a pound. It includes a vivid 7" high resolution display, 1 GHz dual-core processor and the new BlackBerry Tablet OS, which delivers a highly-responsive, fluid touch screen experience. It also comes with premium multimedia features including dual High-Definition (HD) cameras for video capture and conferencing. It has an HDMI-out port for presenting on external displays and offers rich stereo sound with a media player.
The BlackBerry PlayBook Video Chat application enables users to interact between offices or share important moments and events with family and friends. With the BlackBerry PlayBook's high-resolution video cameras and stunning display, a Video Chat call is the next best thing to being there.
Customers who have a BlackBerry smartphone (running OS 5.0 or higher) can also benefit from BlackBerry Bridge, a unique feature that allows a user to wirelessly and securely connect their BlackBerry smartphone to their BlackBerry PlayBook over Bluetooth. The secure connection allows the user to access their BlackBerry smartphone's email, address book, calendar, memo pad, task list, BBM and browsing functionality using the large display on the tablet.
BlackBerry PlayBook specifications
7″ 1024×600 WSVGA capacitive LCD touch screen

Ultra-portable at less than a pound and less than one-half inch thick: 0.9 lbs (425g) and 5.1" x 7.6" x 0.4" (130mm x 194mm x 10mm)

1 GHz dual-core processor

BlackBerry Tablet OS with support for symmetric multiprocessing

MP3, AAC and WMA audio playback

Support for 1080p HD video playback (H.264, MPEG4, WMV)

HDMI out

Dual HD cameras for video conferencing and video capture

1 GB RAM memory

Up to 64 GB internal storage (16, 32 and 64 GB models)

Wi-Fi (802.11 a/b/g/n) connectivity

Bluetooth 2.1+EDR support

BlackBerry PlayBook 16GB, 32GB and 64GB models are prices Rs. 27,990, Rs. 32990 and Rs. 37990 respectively. It will be distributed nationally through Redington India and Ingram Micro, initially in 1000 retail stores across 8 cities and then expanding to other parts of the country.  Accessories for the BlackBerry PlayBook will also be available in these stores from today.