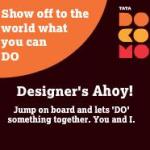 TATA DOCOMO has announced a new contest – DO Year E-Greeting Contest. The DO Year E-Greeting Contest will run from 23rd December till the 26th of December and the winner will win a prize of Rs.25,000. Other chosen runner-ups will win exclusive Tata DOCOMO Merchandise of their choice.

To participate in the contest all you have to do is to create a DO Year E-Greeting celebrating the New Year resolution i.e. make a Flash Animation using characters – D and O or  D,O,C,O,M,O to create a 05-10 seconds flash animation.The flash animation must preferably be 18 frames per second and Set to TATA DOCOMO'S do-do-do tune; in an SWF format. The dimensions of the E-Greeting must be 540px by 370px and published in Flash7.
To download our logos and the brand signature tune click here.
Once you are done with creation of E-greeting click here to submit your entry. Upload all your E-Greetings in the 'DO Year E-Greetings' category.