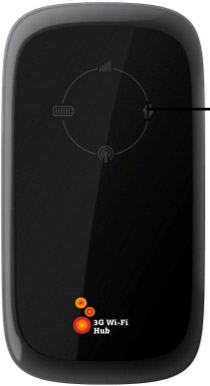 Tata DOCOMO today announced the launch of a revolutionary internet access device — 3G Wi-Fi Hub to enable multiple users (connects up to 5 devices simultaneously) and devices to share wireless Internet access and stay connected on the go. The device offers uninterrupted connectivity for specific Wi-Fi devices like Laptops, Tablets, Gaming Consoles and Wi-Fi-enabled Televisions.
The evolved device offers dual-mode internet connectivity to users — a first in the Indian market. The device enables users to maneuver between Tata DOCOMO's Next-Gen 3G GSM network and Tata Photon Plus on the CDMA platform — one technology at a time—offering speeds of up to 7.2 Mbps. In one small stroke, it allows users to access the Internet at 3G speeds in all the nine Tata DOCOMO circles where the company has the license, while allowing them to seamlessly switch to the high-speed Tata Photon Plus platform in other locations.
Apart from a portable powered battery, seamless connectivity, simple browser-based configuration, the device is also password-protected for better security.
The Tata DOCOMO 3G Wi-Fi Hub is available with post-pay plans, to begin with. Customers opting for the sleek device will be provided with a starter pack containing both Tata DOCOMO 3G GSM and Tata Photon Plus start-up kits (SUKs). Customers can choose from a number of plans on both the Tata DOCOMO 3G GSM and Tata Photon Plus SUKs and can data speed of 7.2 Mbps and 3.1 Mbps, respectively. To access data on the Tata DOCOMO 3G GSM and Tata Photon Plus platforms, customers will have to activate both SUKs separately with necessary documentation.
3G Wi-Fi Hub Plans
There are two plans available—the Wi-Fi Rs 750 and Wi-Fi Rs 1,000 plans. The Wi-Fi Rs 750 Plan comes with a monthly rental of Rs 750 and offers data usage of 2GB. Post the 2 GB being consumed, customers will have to pay a nominal cost of 50 paise per MB for additional data usage. Similarly, the Wi-Fi Unlimited Rs 1,000 Plan comes with a monthly rental of Rs 1,000 and offers 5GB of data usage. Post exhausting this 5GB, customers can enjoy unlimited data usage under the 'throttle option', wherein surfing speeds will be determined by user location, number of people accessing the network and device configuration.
The device is priced at Rs 5,999 and is available across Tata DOCOMO and Tata Photon stores. Tata DOCOMO customers can call up 1800-2660000 for details.