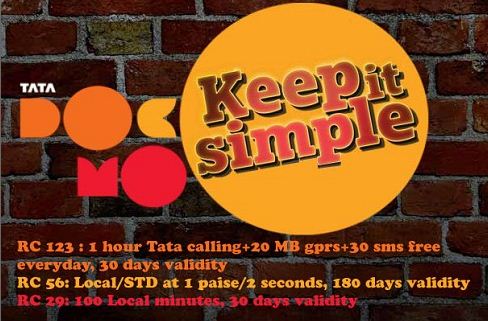 Ever since Airtel kicked off the price hike initiative, we have seen almost all providers increase their base tariff rate. Well, maybe Tata Docomo will also end up hiking its base tariff someday in Maharashtra circle but subscribers can still avail the rate cutters to lower the tariff. Tata DoCoMo has come up with three such rate cutters in this month.
Please take a look at these rate cutters which can only be availed by doing a special recharge of the required amount.
RC 123
Cost: Rs. 123
Validity: 30 days
Tariff:
60 minutes of Local Tata calling everyday

20 Mb 2G data everyday

30 Local/National SMS everyday
I personally tried using this pack just to check wether 1800 On-net minutes (60×30), 600 MB 2G data (20×30) and 900 Local/National SMS (30×30) gets added in our pool accounts at a time but strangely, the freebies of this offer are not shown anywhere in main as well as pool balance although I am able to make free On-net calls. If the above said things were displayed in pool balance, this pack would have been great for those who want free On-net calling, gprs pack, SMS pack with a validity of 30 days and without any daily cap.
RC 56
Cost: Rs. 56
Validity: 180 days
Tariff:
Local & STD calls to any network at 1 paise/2 seconds

1st minute of each call to be charged at 1 paise/second

No change in SMS tariff

Customer will be reverted back to base tariff after the expiry of this pack
This is not a bad offer considering the validity it comes with. One can make calls to any network at half the rate by just paying base rate of 1 paise/sec for first minute of every call. Good for those who prefer long duration calls.
RC 29
Cost: Rs. 29
Validity: 30 days
Tariff:
Offers 100 Local minutes to any provider

No change in SMS tariff
This pack offers effective calling rate of 29 paise/minute with a validity of 30 days without any rate cutter pack. You get 100 minutes in return of Rs. 29 which is actually good for those who are low on calls.