Tata DOCOMO today announced the launch of its first co-branded mobile handset, the OneTouch Net Phone from Alcatel. The ergonomic QWERTY handset offers one-touch access to Tata DOCOMO's 'Dive In' portal and a suite of Yahoo!'s leading services. Yahoo!'s services are pre-loaded and directly integrated into the device.
The phone, which is available in two catchy colors—a vibrant 'White & Lavender' and a sleek 'Black & Silver' comes with 80 MB of Built-in Memory, a 2 Megapixel Camera, an MP3 Player, FM Radio and Stereo Bluetooth 2.0 technology. It will offer Lifetime-free Yahoo! Mail & Yahoo! Messenger services to Tata DOCOMO users. It is priced at Rs. 5499
Tata DOCOMO will offer the following Yahoo! services on the Alcatel OneTouch Net Phone, which can be accessed with a single sign-in:
Yahoo! Mail—Access your favourite Web mail features: Read, reply, compose and send mail, with push alerts; view attachments; get to your personal mail folders; and organize messages by customizable groups;
Yahoo! Messenger—Message your friends reliably in real time: view their availability and quickly see their status messages; update your own status; and show your style with emoticons, avatars, or photos;
Yahoo! Contacts and Calendar—Look up and/or add contact information and update your calendar;
Yahoo! Homepage—One-button access to Yahoo!'s mobile homepage: the world's most advanced mobile homepage. Bring together your favourite content and services from anywhere across the Internet to one location, all on the gorgeous 2.4-inch display;
Yahoo! News—Get up-to-date headlines from Yahoo! on the home screen, so consumers will have the latest news brought to them;
Yahoo! Search with Voice—Consumers can search for anything, including locations, news, Website names, and more by simply speaking. Yahoo! Search with Voice lets consumers perform 'Wide-Open' searches, returning relevant results for practically every kind of query. Simply speak whatever you are looking for and have access to instant answers and relevant information;
Yahoo! Social Pulse—Provides a dynamic overview of what friends are up to, including recent photos, their status, profile updates, and recommendations across popular social networks; allows users to easily connect with people, and/or update their status across multiple social networks at once; and
Flickr—Take, share and discover photos and videos; geo-tag photos; and e-mail them to your Flickr account from your Alcatel mobile phone.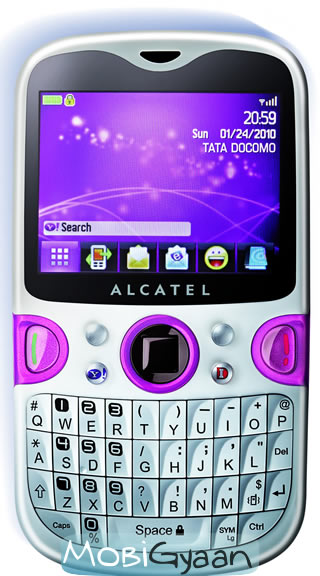 While Yahoo! Mail and Yahoo! Messenger will be lifetime-free for all subscribers on the Tata DOCOMO network, subscribers visiting the 'Dive In' portal will be able to enjoy differentiated services. The OneTouch Net will also provide easy access to Tata DOCOMO services like My Song, Call Me Tunes, Buddy Chat, My Talkies, Astro Portal, Funzone, Song Book and much more, through customized keys on the OneTouch Net handset.