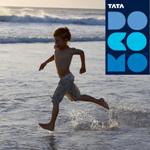 TATA DOCOMO today announced the launch of its operations in Rajasthan. It is covering 580 towns & 2,867 villages. TATA DOCOMO is already operating in Tamil Nadu, Kerala, Orissa, Karnataka, Andhra Pradesh, Mumbai, Rest of Maharashtra, Madhya Pradesh-Chhattisgarh, Haryana, Kolkata, Rest of West Bengal, Jharkhand-Bihar, Punjab, UP (East), UP (West), Gujarat and Himachal Pradesh telecom Circles.
TATA DOCOMO is offering Pay Per Second Plan as default tariff to its subscribers in Rajathan. TATA DOCOMO is also launching its mobile community in Rajasthan —Buddynet— wherein members can make  calls at lesser charge within the community.
"We are focusing strongly on network superiority, coverage and service offerings. Our network footprint is the largest among all telecom operators in Rajasthan, at the time of launch. We have made large investments in HP, and further expansion is on the anvil this year itself," Mr Ajit Chaturvedi, TATA DOCOMO's Chief Operating Officer in Rajasthan, said. "We will unveil a portfolio of Value-Added Services that will reinvent mobile telephony in India, with products and services like diet-sms, Free Voicemail, Timed SMS Service, Free Missed Call Alerts, Call-me Tunes, etc—all of them customized to liberate and refresh our subscribers," added Mr Chaturvedi.
Wth this launch in Rajathan, the PAN India roll out is complete except Delhi. Delhi launch is delayed due to non-allocation of spectrum, Mr. Anil Sardana blamed DoT and some of TATA DOCOMO's competitors for non-allocation of Spectrum for Delhi.