With internet on the move becoming a steady requirement in India, Tata Docomo has launched a new USB dongle to help provide faster and reliable connectivity.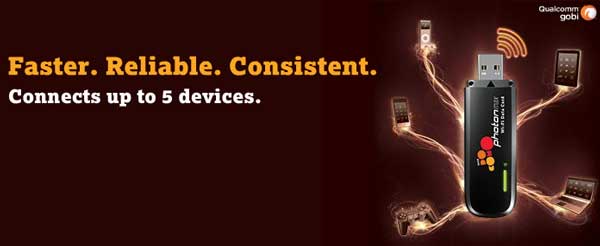 Tata Docomo has announced the launch of the new Photon Max Wi-Fi, which besides being able to connect to the internet can be used to setup high speed internet Wi-Fi hotspot on the move. The data card, which is powered by the dual core Qualcomm Gobi processor, is based on the Rev-B CDMA technology and offers speeds of up to 6.2 Mbps. The device can create Wi-Fi hotspots instantaneously, which can be used to connect up to 5 devices.
The Photon Max Wi-Fi can be connected to any USB port including Laptops, Car Music Systems, DTH, Power Plug, Car Charger, Battery Bank to setup a Wi-Fi hotspot. The device is available with pre-paid and post-paid plans. The data card comes with free national roaming throughout India. Existing Tata Docomo Photon customers can upgrade to Photon Max Wi-Fi by getting a new device at Rs. 1999. The unlimited data plans start from Rs. 650 for 3 GB data right up to Rs. 1500 for 15 GB of data.
Speaking about the Tata Docomo Photon Max, Elango T, President Operations, Mobility, Tata Docomo said "The threshold for bandwidth and high speed data connectivity has gone up in the recent time. While wireless data connectivity has greatly increased the level of the user experience on mobile devices, Photon Max Wi-Fi promises Video speeds and will allow data-hungry applications to run seamlessly between multiple users. Our integrated Data play across CDMA, 2G and 3G networks has helped us become the Data leaders in the industry. While we have consistently been leading the market on the large screen segment via Photon, our growth in Small Screen data penetration and revenues has been unprecedented with our innovative product offerings. We believe that data is the next frontier of growth that will offset slowing voice revenues and with products like Photon Max Wi-Fi will help boost the data revenues. Data is already a substantial revenue driver for the company, appx 30 per cent and we only expect this number to go up."