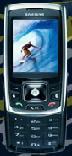 Tata Teleservices has extended an promotional offer on 5 Samsung CDMA Open Market Handset. New customer will get Talk Zyaada starter pack bundled with select Samsung CDMA open market handsets namely, mPower F309, Max, mPower F569, Duos Touch and 2On. The specified Samsung handsets are priced above Rs. 6000. This offer is available to subscribers across Andhra Pradesh, Delhi, UP West & East, Haryana, Rajasthan, Kolkata and RoWB.

Talk Zyaada starter pack offers prepaid subscribers benefits like 500 minutes free talktime valid for three months and attractive tariff plans. The free talktime is applicable for all local and STD calls to all networks. When the promotional talk-time is over, subscribers will be able to make local calls at Rs. 1/- per minute to any mobile network whereas all STD calls will be charged at Rs. 1.50/- per minute.Promotional minutes of Talk Zyaada starter pack are applicable only when used with the specified Samsung handsets and will not be applicable in case the customer uses the same with any other handset.
Existing subscribers upgrading to any of the above specified Samsung handset, will also receive the promotional minutes with his contact number, tariff, validity & recharge balance remaining intact.
Speaking at the occasion, Mr. Vineet Bhatia, COO Delhi and NCR, and Head North Region Tata Teleservices Limited said, "By adding Open Market Handsets in our current handsets portfolio, we have ensured that our subscribers who desire for high end handsets with rich features and functionality can now own it without having to think twice. The customer in today's day and age wants the freedom to pick and choose the mobile handset he wants, anytime and anywhere, and we here at Tata Indicom are empowering him to do so. Additionally by bundling Talk Zyaada starter pack we are further reiterating our commitment to provide nothing but the best to our subscribers, be it handsets or tariff plans.
With such innovative and bundled offers in the market, Tata Indicom is not only diversifying its portfolio but also giving the customer additional benefits. Whether it is a businessman with official applications or a youngster with latest value added services and handsets, he or she will always have the Tata Indicom advantage" he added.