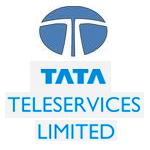 Tata Teleservices Limited emerged as the Number One telecom operator in the country for the sixth consecutive month in terms of new subscriber additions, adding more than 2.98 million subscribers in January 2010.
Tata Teleservices Limited added 2,981,853 new subscribers in January 2010 from its CDMA and GSM operations put together. In December 2009 too, TTSL had showed a healthy growth in new subscriber additions, adding 3,336,476 new subscribers.
Commenting on the landmark achievement, Mr Anil Sardana, Managing Director of Tata Teleservices Limited, said: "We thank and appreciate every subscriber's faith in us as an efficient service provider, a quality that has led to TTSL emerging as the top grosser in the industry in terms of new subscriber additions.What makes this achievement especially momentous is that we have now led in new subscriber additions for six consecutive months, and have now emerged as the fifth-largest telecom operator in the industry, with over 60 million subscribers. This bears testimony to the efforts that have been put into making our network and services the best in the industry and we will continue to innovate and provide world-class products and offerings to our subscribers."
TTSL added to its portfolio of offerings with the launch of a new mobile telephony brand T24 on the GSM platform, in partnership with Future Group. The new brand, T24, will further enhance the company's reach in the market and bring to subscribers several unique product innovations. "Coupled with offers such as Pay Per Call Flexi Plan from Tata Indicom and BuddyNet from Tata DOCOMO, as also the recent launch of Virgin Mobile's GSM services, Tata Teleservices' subscribers have the freedom to choose a plan and brand in accordance to their lifestyle and usage patterns, and stay connected at on the industry's best network," Mr Sardana added.