As soon as a new gadget arrives in the market, many teardown experts get to work to see what lies inside the newly launched product.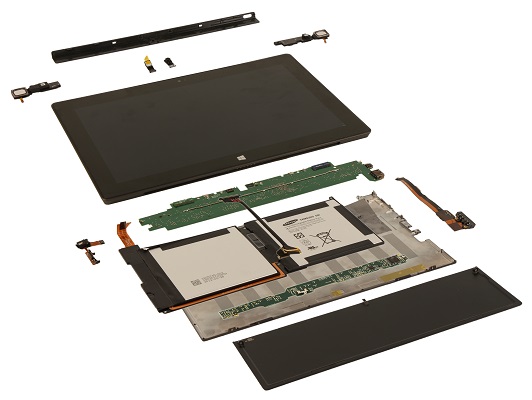 And one of the teardown experts is IHS iSuppli which has taken Microsoft's Surface RT tablet and revealed to us as to what all components arrive in the 10.6-inch tablet and also how much it costed Microsoft to built it.
According to the guys at IHS, the 32 GB version of the Surface RT tablet is built with $271 worth of parts. Now that is a great number given that the tablet starts retailing at $499. Though IHS has not taken into consideration the cost of R&D, Marketing and any other factors. The $271 is the bill-of-materials (BOM) cost. Add the manufacturing cost of $13 and the figure reaches $284.
 
Interestingly, almost half of the $271 BOM goes to Samsung, $137 to be precise, as the Korean giant is supplying the memory chips, display of the Surface tablet and the battery to Microsoft. The guys at IHS did not stop at this and also took the Touch Cover into their hands, that Microsoft is either selling separating or bundling with the Surface tablet.
 
And the teardown of the Touch Cover goes on to reveal that it contains components which are worth $16. Yes you read it right. Microsoft retails the Touch Cover for the Surface tablet at $120 if users buy it separately and charges $100 when bundled with the 32 GB version of Surface tablet.
 
So Microsoft will indeed make a sweet profit with the launch of the Surface tablets which is the first hardware launch from the company in a decade.