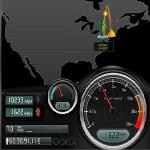 Many of my Friends (most of them use BSNL Broadband) asked me that which website should they use to check their Broadband Speed. After some research in past, I have found that speed test by BSNL's website is not very accurate. So I have suggested them a website where they can check their Broadband Speed and now I would like to share that with MobiGyaan Readers.
I generally use SpeedTest.net
. I suggest you to test your Broadband's Download Speed as well as Upload Speed on SpeedTest as this provide rational speed test, irrrespective of your Connection Type/Company/Media/Methodlike

Broadband (DSL)

Cable

Dial-up Line

Wi-fi

Data Cards (CDMA, Plug to Surf)

Lease Lines

Wi-Max

GPRS

3G

EDGE

ISDN

Fiber

The above website provide speed results in Mega Bits per Seconds (Mbps) so you can convert it into Kilo Bits (Kbps) by Multiplying the result by 1024. The download speed of any type of file is always measured in KiloBytes (KB) so we can convert above Kbps result into KBps by Dividing the Kbps number by 8.

I would also like to clear few doubts regarding Internet Surfing Speed and Downloading Speed of file. Internet or Surfing speed is generally calculated in Kbps (KiloBits Per Second) and Downloading Speed is generally Calculated in KBps (KiloBytes Per Second). If we know our Internet connection speed in Kbps then we can divide it by 8 to get the Downloading Speed i,e. speed in KBps.

For Example, If BSNL is giving 256 Kbps speed in Home 750 Unlimited Plan then we will get approx. 30-32 KBps downloading speed If we are having Home 500 Combo Plan which is having 2 Mbps speed then we will get 256 KBps downloading speed.

Internet Speed vary from time to time so the practical figures may vary during actual downloading.

Internet Speed or Downloading Speed depends upon numbers of factors, some are

1. Internet Plan taken from your Service Provider.
2. Operating System Configuration.
3. Modem/Router Limitation.
4. Line/Media Quality.
5. Line/Media Length.
6. Hardware Limitation.
7. Presence of Virus in System.
8. Lack of Technical Implementation.
9. Browser Capabilities.
10. Use of Download Managers.
I hope you must have enjoyed reading the article.