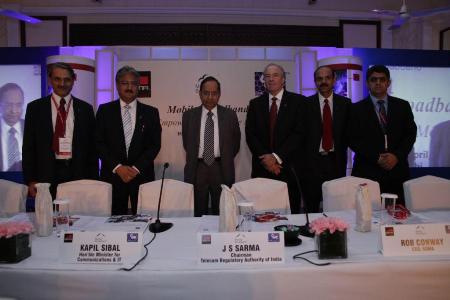 Communications & Information Technology of India, the GSMA, the Cellular Operators Association of India (COAI) and the Telecoms Regulatory Authority of India (TRAI) will be working together to facilitate the growth of Mobile Broadband services across India. A seminar took place in New Delhi called the Mobile Broadband – India Empowering the Mobile Ecosystem summarizing the details of the collaboration. This collaboration between the Indian government, the regulatory authority and the mobile community will surely bear some good results.
All of the departments had their own views about this new step for Mobile Broadband in India.
The Minister for Communications & Information Technology, Mr. Kapil Sibal said, "India has always been a global leader in information technology, providing the world with much needed leadership and direction in IT and research and development. However, it is time to bring the Internet revolution to our rural communities and I believe Mobile Broadband will play a significant role in achieving this. The Indian government understands the need for wireless broadband connectivity and is working towards making adequate spectrum available to support these services."
"TRAI is committed to developing an ecosystem to meet the need to connect our citizens in line with the National Broadband Plan. Mobile Broadband will play a significant role in meeting our target of 160 million broadband connections by 2014," commented Dr. J.S. Sarma, Chairman, TRAI.
We also saw Mr. Sanjay Kapoor, Chairman, COAI and CEO, Bharti Airtel India & South who had this to say: "The global mobile industry achieved an important milestone last year when mobile data traffic surpassed total voice traffic. With the exponential growth of Internet users in India it is only a matter of time when we will follow suit. In witnessing the rapid adoption of mobile voice services, I am convinced that India will soon be at the forefront of next-generation Mobile Broadband technology. COAI is committed to working with the GSMA, TRAI and the government to meet the demands of Mobile Broadband and to provide universal Internet connectivity that will empower and enrich the lives of millions of Indians."
Rob Conway, CEO, GSMA commented: "Mobile Broadband has transformed the reach of the Internet, with more than 450 million connections across the globe. Through sufficient spectrum allocation, India can become a leader in the provision of Mobile Broadband and take advantage of the huge economic benefits, which could generate more than INR 3,146 billion to India's GDP by 2020. We fully support the Indian government in its efforts to connect all its citizens to the Internet and look forward to the early release of spectrum in both the 700MHz and 2.6GHz bands in line with international efforts."
With this joining of different sectors, there will surely be development in the mobile broadband services as well as it will serve better for the economy of the country.