Get ready to enjoy all the Formula 1 action live on your mobile. We have come up with a list of 5 best Formula 1 apps for your android devices. These apps will provide you with news updates, live timings (yeah you read that right!) and much more.
Formula1.com – This is the official Formula 1 app. It is a must have application for Formula One fans. It streams real-time data direct from Formula One Management's Technical Centre at the race track. It displays the same information supplied to the teams from every session of the weekend, instantly putting you at the heart of the action.
Features of Formula1.com App :
Live timing : It will provide driver number, name and position, lap times, sector times, session countdown and lap count, straight-line speeds, track status indicator, text commentary and lap chart

Circuit data – It will display air and track temperatures humidity, air pressure and rainfall and wind speed and direction

Additional features include practice, qualifying and race results, race timetable, season calendar, championship standings
You need to register on formula1.com to use this app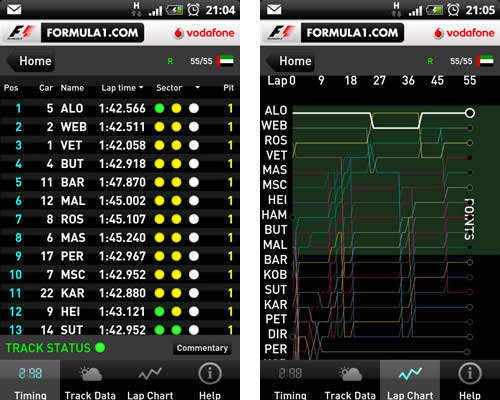 Livesports24 F1 Racing : This app brings you live commentary, lap-by-lap race positions, live coverage of qualification sessions, real-time leaderboards, up-to-date news, circuit guides and plenty more.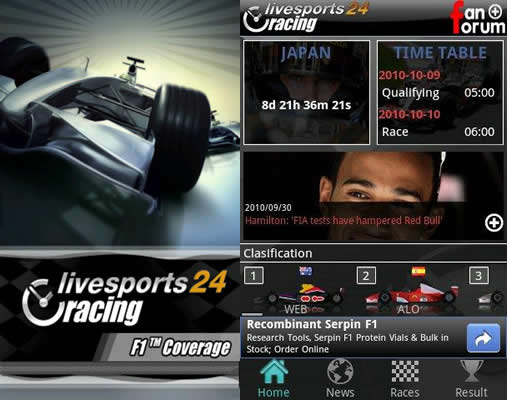 ESPNF1 : This is official app of ESPNF1.com. It  brings you the Formula One in both English and French. The app will provide news, features, live commentary during races, and detailed information about teams, drivers, and circuits.

The ESPN F1 app feature list includes:
Count Down Clock – home page features a live count down to the start of the next race

Feature Stories – original features including Driver Profiles, Car Profiles, Q&A, and opinion-based articles from ESPNF1 writers

Circuit Detail – After selecting a race, users can view circuit information, including a profile of each track along with historical information

Race updates – upcoming race calendars and exclusive news

ESPNF1 video (coming soon) – covering Formula 1 news and analysis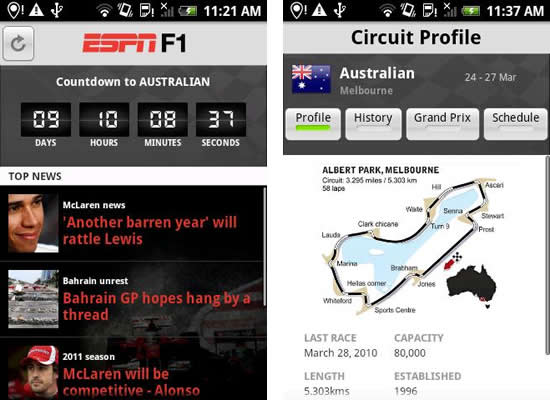 Elite GP : This app is a News Aggregator. It collects news from various popular F1 portals like Formula1.com, Autosport, ESPNF1, Sky Sports, Planet F1 and BBC Sport.  It also shows latest point standings for both the drivers & constructors championships & the full racing calendar complete with historical results from Wikipedia.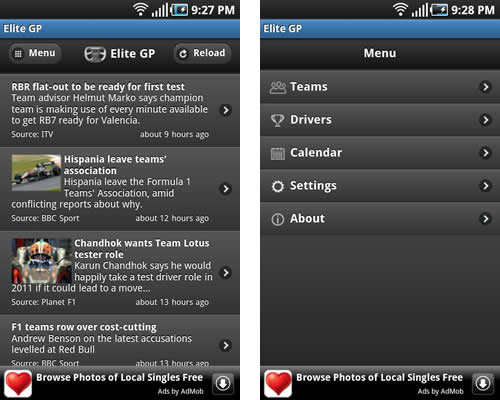 F1 News : This app just like Elite GP is a News Aggregator. It also shows latest point standings for both the drivers & constructors championships & the full racing calendar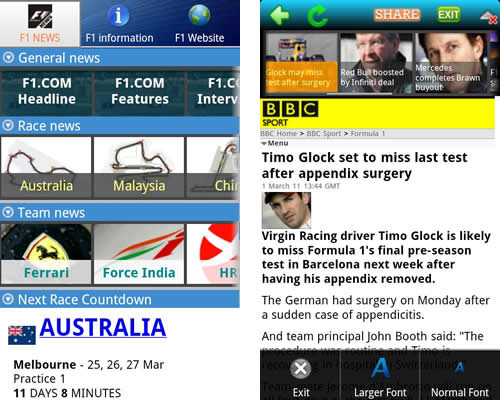 All these apps can be downloaded from Android Market.