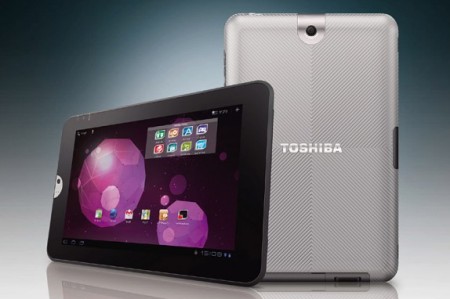 The Regza Tablet AT300 by Toshiba was unveiled at the Consumer Electronics Show (CES) held in January in Las Vegas. The company will be launching the tablet soon, till then let us take you through the specifications of the newest tablet in town.
It will run Android Honeycomb and the most exciting feature will be the support of USB, HDMI and an SD Card slot. Yes, the tablet will have a slot for USB, Mini USB, HDMI and an SD Card slot. The 10-inch screen will have a resolution of 1280 x 800 pixel will be equipped with two webcams: a front facing 2 megapixel camera and a rear facing 5 megapixel camera. Other specs include, LED backlight, Tegra 2 (1GHz) CPU, 1GB RAM, 16GB internal memory, IEEE 802.11b/g/n Wi-Fi, Bluetooth, Battery life: 7 hours. Weight: 765gram, Dimensions: 177 × 273 × 15.8mm.
The specs look promising and we hope it reaches the Indian market soon, and not delayed like other tablets.