Bangalore City is known for its IT offices and also bad traffic. And if you have visited the city at least once, you could imagine the plight of the office goers and normal citizen of the city. Many people today own a smartphone and traffic jams are frequent.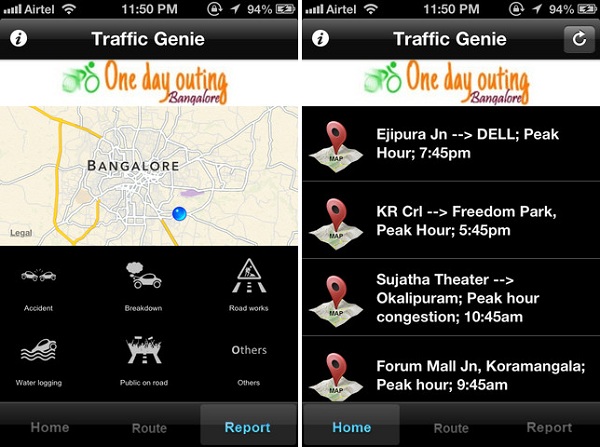 But what happens when we combine both? Well we get an app to work on your smartphone which will inform you of jams in specific routes in Bangalore which you could avoid and opt in for alternate one. Here's Traffic Genie for you.
Well, Traffic Genie is a mobile app that has been developed by a company called Virbisol in support from the Bangalore City Traffic Police which delivers:
 
Instant traffic information/traffic situation at different parts of your city, right from the Traffic Control Room.

Lets you Search and decide on alternate routes from the map based on the traffic situation.

Lets you Report a traffic situation to the reporters at Traffic Control Room who in turn validate and share it with everyone in your city.
Sounds great right? Basically Traffic Genie is like a community where road users keep other users of the app informed of the current situation from a place where they are held up and notify all others to avoid that route.
 
Traffic Genie App arrives with many options like Home screen, where lists of traffic congestions are instantly delivered to you with the help of traffic police. While the Route screen lets users search for different routes from a start and end point with Traffic Indicators to help you decide the route you want to take.
 
There is also a Report option where in users can report a traffic incident/situation to the City Traffic Police by just selecting one of the many categories available.
 
If you you are from Bangalore and wish to spend less time held up in the chaotic traffic, Traffic Genie is there for your rescue. It is a free app and is available for Android smartphones and the iPhone.