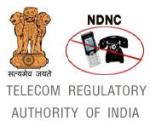 Inspite of registering with Do Not Call Registry, many people receive SMSes and calls from Telemarketers, eveidently  DNC Registry is not very effective to curb the menace, as a result the Telecom Regulatory Authority of India (TRAI) has issued new regulation "The Telecom Commercial Communications Customer Preference Regulations, 2010". This regulation covers Commercial calls and SMSes and will be effective from 1st January 2011.
I am yet to finish reading the entire regulation, its a whole lot of 53 pages, though I am used to read such lengthy regulations so it will not take much time. I will come up with a detailed post on the entire regulation soon. Meanwhile check out some of the highlights of "The Telecom Commercial Communications Customer Preference Regulations, 2010". 

SMSes and calls will be categorized in 7 categories namely (i) Banking/Insurance/Financial products/credit cards; (ii)Real Estate; (iii)Education; (iv)Health; (v)Consumer goods and automobiles; (vi)Communication/Broadcasting/Entertainment/IT; (vii)Tourism and Leisure. You can either choose your categories (Do Call), or choose to be under the fully blocked category (Do not Call) or not to register at all.

Earlier its used to take upto 45 days for DNC registration to become effective, now its cut short to 7 days.

Procedure of registration of Telemarketers is now easier than before. The registration will be immediate on payment of registration fee. Telemarketers currently registered with DOT should reregister.

No commercial communication, even for unregistered customers, shall be sent between 9.00 PM to 9.00 AM, so as not to disturb the customers at night.

I like this one the most – A separate numbering series 70XXXXXXXX will be allocated for telemarketers, so that all telemarketing calls can be easily identified. Any call that comes from any number beginning with 70 will be a commercial call, similarly a unique SMS header has been mandated for easy identification of commercial SMSes.
The new regulation has been issued, definitely, after a well-thought and extensive discussions. I have no complaints about it, atleast as of now, as I have not read the entire regulation yet. Wether it will be effective or not, that only time will tell but I hope that it will be as effective and will save all of us from the menace of unsolicited commercial calls and SMS.
What do you think of this new regulation, what do you think will it curb the menace of Unsolicited Marketing Calls and SMSes?