There might have been many instances where you might have got a missed call from an unknown international number or got a text telling you that you have won millions of dollars or pounds in an international lottery and ask you to call the numbers to claim it.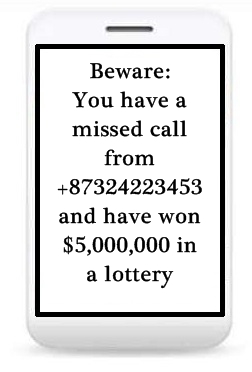 And innocent users who are unaware that these calls and SMSes are just spam and scams tend to call
them
and in turn are charged at high rates as these numbers result to be a premium international number.

Now the Telecom Regulatory Authority of India (TRAI) has come to the rescue of such innocent users and issued a few directives to all Access Services Providers on on missed calls originating from outside the country and lottery scam related text and have asked them to:
 
Ensure that No ISD facility is activated on pre-paid SIM without the explicit consent of the consumer.

Inform all prepaid subscribers having ISD facility, through SMS, within ten days of the date of issue of this direction, that ISD facility of the subscribers shall be discontinued after sixty days and if such subscribers want to continue with ISD facility, they should give their explicit consent for availing such facility within sixty days of the receipt of the SMS.

Discontinue, after the expiry of sixty days of the date on which the subscriber is informed through SMS, ISD facility of all such prepaid cellular mobile telephone service subscribers who have not given explicit consent for continuing with ISD facility.

Inform through SMS, within ten days of the date of the issue of this direction, all prepaid cellular mobile telephone service consumers not to respond to missed calls from unknown international numbers with prefix other than "+91" or calls about winning prizes or lottery and send such SMS to the consumers every six months.

Provide easy and transparent opt-in and opt-out facility to the consumers of the cellular mobile telephone service for activation or deactivation of ISD facility.
We personally would like to make aware our readers that DO NOT CALL back any international number from which you might have got a missed call or a text if you do not know and trust it.
 
Also it is impossible for you to win millions of dollars in a lucky draw which doesn't even belong to your country and in one which you never participated too.