Telecom Regulatory Authority of India (TRAI) has issued the guidelines on the minimum quality benchmarks for the mobile internet services which include GPRS/EDGE, 3G and 4G services. These guidelines have been issued under the Standards of Quality of Service for Mobile Data Services Regulations, 2012.


What does this mean to the operators and the consumers? Well this means that now the service providers will have to adhere with the service standards that TRAI has set and this would in turn benefit the subscribers.

At present, India does not have any quality of standards for mobile data services and this move by TRAI is a great one which would protect the interest of the users.
 
Telecom Regulatory Authority of India in explanatory note said,

It is necessary to benchmark and monitor the quality of service offered by the service providers of mobile data services with various options open to the implementing agencies so that the interests of consumers are protected.
 
Under these standards, TRAI has set nine parameters on which the quality of mobile internet service by operators will be monitored. And most important of all is that that the operators will have to activate mobile internet service within three hours of receiving request from customer.
 
Other parameters that the companies have to maintain with the required benchmarks are as below: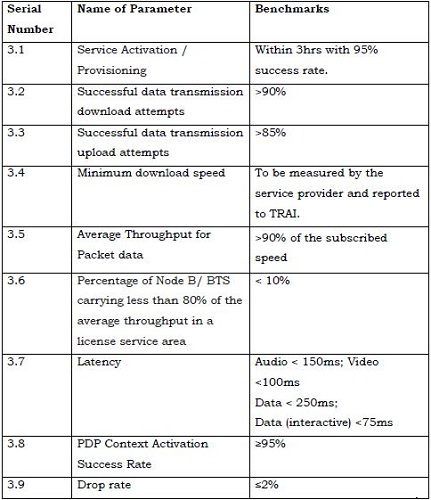 The Draft regulations have been issued by TRAI and it has invited comments before July 25 and counter comments before August 1.
 
Also TRAI will make it mandatory for telecom companies to collect and maintain compliance records of each of the nine parameters and submit them to TRAI within 60 days of notification of these new rules.

So finally are you as a mobile user happy to see that TRAI has started to think about the end consumer of the mobile internet services? Also are you happy with your current mobile internet service?