TTSL Unveils First-of-its-kind 'Customer Service Charter'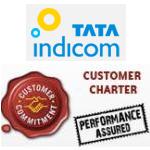 TATA Teleservices Limited has announced a ' Customer Service Charter ' for TATA Indicom customer. Under this Charter the company guarantees pre-determined levels of service and support—and includes 'Compensation Clauses' to pay back  customers if the set service levels are not met. This initiative commemorates the 171st birth anniversary of Tata Group Founder, Sir Jamsetji Nusserwanji Tata.

The Customer Service Charter includes five customer commitments, namely The Bill Dispute Commitment, The Call Drop Commitment, The Handset Replacement Commitment, The VAS Commitment and The Call-Back Commitment.

The Bill Dispute Commitment offers resolution of every bill dispute within three working days, failing which TTSL will compensate its customers with Rs 25 for every additional day taken to resolve the complaint
The Call Drop Commitment promises call drops less than the 1.5 per cent of total calls made in a month, failing which the company will refund 2.5% of the customer's last billed amount
The Handset Replacement Commitment ensures that loaner handsets will be issued to customers in case the handset cannot be repaired over the counter at TTSL's I-Care Centre
The VAS Commitment offers free trial of any chosen Value-Added Service, before buying the product

The Call-Back Commitment promises that call centers will be accessible to customers 24 hours a day, seven days a week and that calls will be answered within 90 seconds, failing which the company will call the customer back within two hours.