What's your dream phone like? Snapdragon 820 SoC, 6 GB RAM, Android 7.0 Nougat, 5.5-inch Quad HD Super AMOLED Always On Display, 16 MP + 8 MP camera combo, 128 GB internal storage and 3500 mAh battery, right? Well, to the best of our knowledge, there doesn't exist a phone with the kind of specs we mentioned right now. But, if it would exist, we would just crave to have one. However, it looks like the folks at Turing Robotic Industries (TRI) wanted to make something more powerful, and hence, they have introduced the Turing Phone Cadenza with specs one would haven't even dreamt of.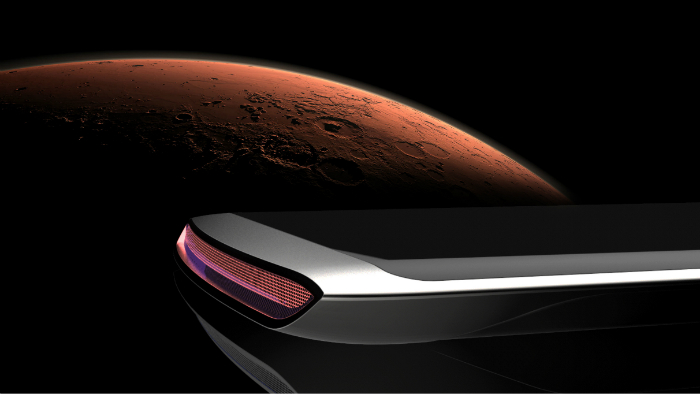 The Turing Phone Cadenza has been announced by TRI CEO Steve YL Chao through a mailing list newsletter. The phone is a part of the Outer Blueprint program which is focused on integrating AI (artificial intelligence) into smartphones.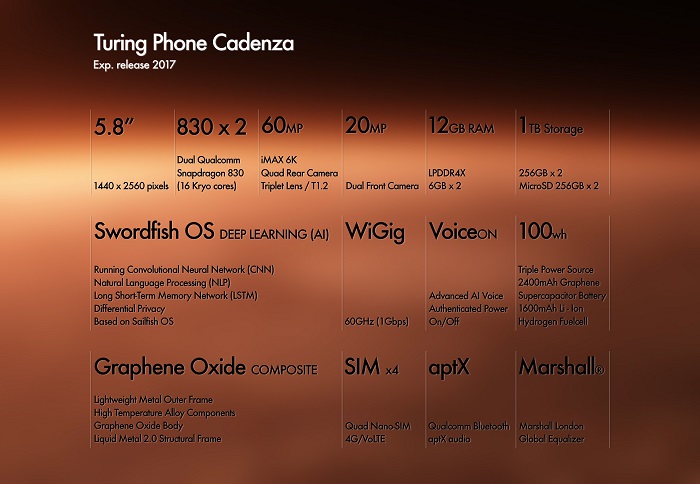 Now, to start with the specs, let us tell you that they are unbelievable and one might think this as fake. But, these specs have been outlined by the company in its newsletter, so here they are. The Cadenza is powered by two unannounced Snapdragon 830 SoCs which are coupled with 2x 6 GB of LPDDR4X RAM (total 12 GB RAM).
The device will run on Swordfish OS that incorporates deep machine learning and is based on Sailfish OS. For photography, you will get 60 MP iMAX 6K Quad Rear Camera with Triplet Lens/T1.2 and for selfies and video calls you will have 20 MP Dual Front Cameras at your disposal.
Well, if you have camera which can shoot 6K, you definitely need massive amount of storage. Isn't it? Well, TRI lets you enjoy 1 Terabytes of storage (512 GB internal storage + 512 GB via microSD card) on the device. If a phone boasts such insane specs, it definitely needs a lot of juice to keep running, hence, TRI will provide 100 wh battery which will get power from three different sources – a 2400 mAh graphene supercapacitor battery, a 1600 mAh Li-Ion battery and a hydrogen fuel cell.
The only thing believable about this phone would be its display. It will have a 5.8-inch Quad-HD display. We hope it to be Super AMOLED though. Oh, and did we say it will let you use four SIM cards? Yes, it will.
"TRI foresees a new machine with far more computing power to serve our daily needs when we need them the most, thus we've dreamed up and have begun development of what we call a "perfectly designed device."" said Steve YL Chao, CEO, TRI.
TRI expects this phone to release sometime in 2017. Well, let's see how they pull this off. Do let us know what you think about this phone with such unbelievable specs.