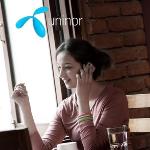 Uninor recently announced that it has added 2.17 million new subscribers in September, taking its subscriber base to over 11.2 million in the 13 circles where its services are commercially available. This is the second consecutive month where Uninor crossed the 2 million new subscriber mark. As per the subscriber data released by the Cellular Operators' Association of India (COAI), in September, Uninor was placed as the 2nd highest GSM operator pan India in terms of net adds and was number one in its 13 circles.
In September, Uninor also crossed 10 million subscribers from its 13 circles within 9 months of the start of its services in India. The company has secured over 100% revenue and 79% subscriber growth from Q2 to Q3 ending September. A large part of this growth came from an overall increase is minutes of use as well as improving ARPU. Primary SIM usage too improved, especially in the recently launched circles of Kolkata, West Bengal, Mumbai, Maharashtra and Gujarat.
Uninor is today commercially present in 13 circles that together account for 75% of India's population. It has already deployed over 22,000 towers and is augmenting this network further in several circles. Operationally too, Uninor has now set-up 60 hub and zonal offices pan-India, already works with over 20,000 vendors and partners in various functional areas, has close to 2600 direct employees with an additional 6000 from partner organizations working for the company.