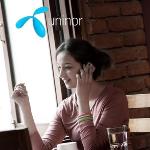 Uninor has introduced Special Gulf Calling Pack for its subscribers in Andhra Pradesh to celebrate the holy month of Ramazam. With the 'Gulf I-save pack', Uninor subscribers can call the Gulf countries at Rs. 6.99 per minute.
The Gulf I-save pack can be activated at a charge of Rs. 31. Tariff rate of Rs. 6.99 per minute is available for all Gulf countries including UAE, Saudi Arabia, Kuwait, Bahrain, Oman (Land Line), Qatar (land Line) and Yemen.
For domestic callers, Uninor has launched the Ramzan Special Tariff Voucher 'STV 786'. The voucher offers a talk time of Rs. 786 bundled with 786 free local and national SMSes.
The Ramzan Special Tariff Voucher STV 786 is valid for 30-days. In addition to talk time of Rs. 786 plus 786 free national and local SMSes, customers will also get one-month free subscription to My Tunes with unlimited song changes and a Quran pack that delivers SMSes quoting verses from the Holy Quran.