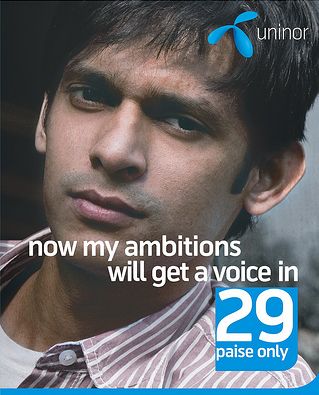 Uninor which was the largest Greenfield launch operation in telecom history marks its 100 days in Andhra Pradesh by establishing its geographical base in 23 districts, 423 towns and 1328 villages. Uninor boasts of 6 Company owned outlets, 14 Franchisee owned outlets and 100 Modern Trade outlets – all operating successfully across Andhra Pradesh. Uninor in Andhra Pradesh holds strength of 187 employees and 640 associates.

On launch day, the network covered a national footprint of close to 600 million with the simultaneous launch in the circles of Andhra Pradesh, UP (West), UP (East), Bihar , Tamil Nadu, Karnataka and Kerala in December, 2009.

On the event of 100 days, Dushyan Vaithiyanathan, Executive Vice President, AP, Uninor said, "I am extremely elated at the response we have received from the market in only 100 days. As a brand, we are here to do much more than to offer a telecom service. Our business is about people – real life, young and aspiring people and we are here to provide our services to help fulfill their dreams and aspirations. We believe enhanced communication translates into opportunities. Ab Mera Number Hai is about the sense of opportunity through communication and the will to seize it. It's these aspirations and opportunities that Uninor will help its customers fulfill." 

In their first month of operations, Uninor Andhra Pradesh crossed over 1.5 lakh subscribers out of 12 lakh subscribers from the eight circles where its GSM service was available. Though these numbers are reflective of a very early phase, it is however an indication that the consumer indeed perceives Uninor's USP to be attractive. The company's strategy is to ensure that it delivers the best value for a segment who seeks more value the more they use.

Uninor also secured largest ever distribution at launch by any telecom operator with 210,000 points of sale on launch day across the country and with 25000 points of sale in AP. The company presently has retail signages across the state. The company successfully carried out the monumental Blue Wave– an army of over 2500 people flaunting and creating awareness about the brand across Hyderabad , Vijayawada and Visakhapatnam , a day after the launch.

Uninor aims to be a preferred telecom operator to its customers with the combination of key strengths of two shareholders – global experience of Telenor and the Indian market knowledge share of Unitech. Uninor has built a network which uses the latest IT systems with remarkable backend support to provide customers with the best experience possible can support traffic better.