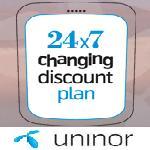 Within a few weeks of debuting the new concept of 'dynamic pricing' in the three telecom circles of Andhra Pradesh, Tamil Nadu and Karnataka, Uninor has now launched the '24X7 Badalta Discount Plan (DP)' in the states of Uttaranchal, Uttar Pradesh, Bihar and Jharkhand .

The plan will offer customers changing discounts on their calls based on traffic on the network. The discounts will change with location and with time, with each cellphone tower broadcasting a different discount. At the same location, the discount will change on an hourly basis. By putting customers in control of costs, with 24X7 changing discount rates.

Discounts are calculated by an 'Discount Engine' that continuously monitor traffic at every tower in the network. Applicable discounts based on real time network traffic at evey individual tower are broadcast to all mobile phone screens under the coverage of that tower. The system also ensures that the discount at which a call is originated is maintained through the duration of the call – even if the customer moves from the coverage of that tower to the next.

Under the '24X7 Badalta Discount Plan (DP)', customers will be able to avail a discount on their calls that ranges from 5% to as much as 60%, depending on their location and time at which they call – so simply by crossing a street. This discount will be applicable on a standard base call rate of 50 paisa per minute for any local call, Uninor-to-Uninor or Uninor-to-any other operator. This means a 1-minute local call could cost as low as 20 paisa and never more than 50 paisa.