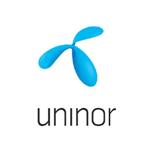 Unitech Wireless, joint venture company of India's second largest diversified real estate major Unitech Ltd. and the Norway based world's 6th largest mobile services provider Telenor Group announced that they will be providing Telecom Service under the brand  name of Uninor in India. Unitech Wireless holds a pan-India UAS license to offer mobile telephony services in each of India's 22 circles. It has also received spectrum to roll out these services in 21 of the 22 circles and intends to roll out its services in select circles by the end of 2009.
"Uninor, as our brand, is much more than a name and a logo. It stands for a set of ideas and a way of doing business and, most importantly, a philosophy that puts people first. Our brand will be our commitment to connect people with opportunities in India," said Stein-Erik Vellan, Managing Director, Unitech Wireless.

"Products and services you can understand, choose and use quickly and easily. No waste, no jargon, no complications. Exciting new ideas and new ways. Making what we say happen, on time and to the very best quality. Respect to every single customer as an individual first. Uninor will be one word for all of these. This will be our differentiator in the market, not just the brand, but what we will make it stand for," said David Meneghello, Executive Vice-President, Marketing, Unitech Wireless.