WhatsApp has just received an update with some cool new features on the iOS platform. Noticeably, some filters to customize images (photo filters), more systematic photo viewing (automatic albums) in chats, and a new shortcut for quick reply.
Now you can add five photo filters to your photos images or GIFs. They are called Pop, B&W, Cool, Film, and Chrome. To add these filters you need to go to the recipient's chat, select the image and swipe up. you will see the new filters. Whatsapp will surely add more, we believe.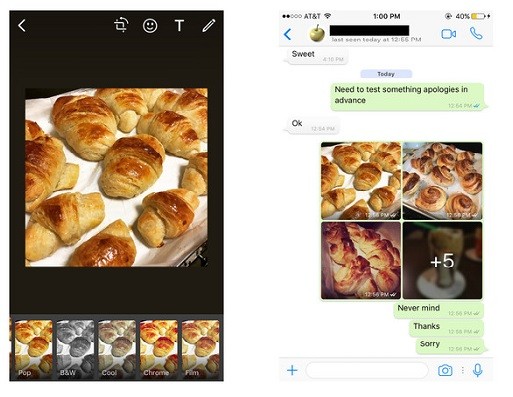 A really handy feature is called automatic album. Remember, when your friends used to send you a truck load of photos just to annoy you. Well, this update takes care of that problem. Sending a series of photos would normally show up in a line one after the other taking a lot of space. Automatic albums adds multiple photos to an album thus saving you space and scrolling time. We wish this comes to Android quickly.
The third feature is quick reply, It enables iOS users to reply to specific individuals in chats by swiping right on a specific text. We can see this being used in group conversations to avoid misunderstanding.
The new update is for iOS. There is no official word regarding an Android update. We just hope these features come to Android quickly.