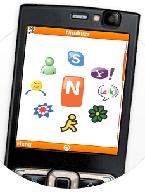 These days using GPRS is very common. Most of GPRS users use it for getting news, emailing, chating etc.If you use GPRS mostly for chating with your friends then you must try out Nimbuzz. I am using it from a long time on my mobile. Its really a cool application. It lets you call, chat, message, and send files on the go, for free. It combines all your buddies from Skype, MSN, Yahoo, ICQ, AIM, Google Talk and more. One login, one contact list, all accounts.
It lets you see who´s online and where, call/group-call, chat/chatrooms, offline messaging, send photos/music/video, voice messaging. Nimbuzz Mobile is free to download and use. Nimbuzz will not charge or bill you for anything. However, since Nimbuzz uses your internet connection, incremental data charges from your provider will apply.
Features :

Save Money: Instead of calling minutes, Nimbuzz uses the internet to let you make free international calls to your buddies. You can also register your VoIP account to call your friends on landlines and mobile phones.
Locate your Friends: Share your location and retrieve the location of your buddies on a map. Great for arranging face to face meetings.
Make yourself heard: If your buddies are offline, let them know you're trying to get in touch by sending them a "Buzz". It will start Nimbuzz Mobile on their mobile phone.
Never lose your Contacts: Use the Phonebook to back up and restore your contacts. Contacts will be backed up online. Comes in handy when you have lost your mobile phone.