While the mystery of the Sony Xperia Z1 mini keeps getting even more confusing, three alleged variants of the device have blasted through the roof of the AnTuTu benchmarks.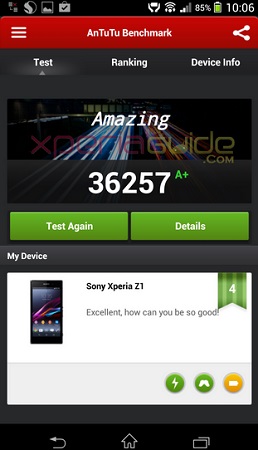 According to AnTuTu benchmark listings, as many as three smartphones, all supposedly the various variants of the Sony Xperia Z1 Mini have been listed. The listing claims that the devices have been powered by the Snapdragon 800 processor along with 2 GB of RAM. One of the Mini variant scored a very high 34193, while the apparent refreshed Xperia Z1s scored an even higher 35485. But the highest was the third model which is said to be the LTE variant of the Xperia Z1 and scored 36257.
While there is no substantial backing, the leaked images so far point out that the Sony Xperia Z1s would be a refreshed version of the Xperia Z1, with slight modifications to the design and placement of ports. However given the scores achieved, this would be the first Mini version to actually represent the flagship device accurately.